10 motivational quotes by 'The Wall' Rahul Dravid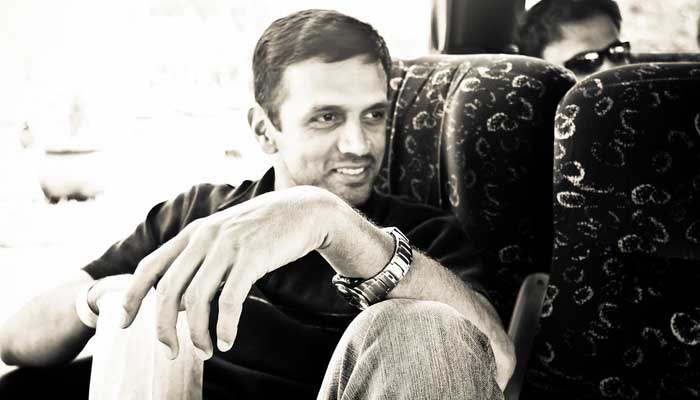 More than Dravid's close to 25,000 international runs, it is his way of carrying himself, which is admirable.
Here's a collection of 10 quotes by the champion:
1) "No dream is ever chased alone."
Rahul Dravid emphasises on the importance of the contribution of parents, colleagues, coaches, and teammates for a person to rise in any walk of life.
2) "I am what I am. I have not deliberately built an image for myself."
Dravid says that his calm, composed and balanced image is a genuine one, and that is exactly how he is in real life.
3) "I have failed many times, but I never stopped trying."
It is admirable for a legend to concede that he has failed several times, even in the sport at which he is one of the best in the world.
4) "I think credibility, irrespective of what you do, if you are in public life, then it is important."
Credibility and Dravid go hand in hand.
5) "There are so many fans and so many people who care deeply about this game and it is because of these fans that we are who we are as cricketers."
There is no doubt that fans are given less credit for the success of sports than they deserve.
6) "You don't play for revenge. You play for respect and pride."
The concept of revenge which has come into cricket is not innate to the game. Respect for the game is paramount.
7) "Reading allows me to recharge my batteries."
Dravid was often spotted reading, even while waiting to bat.
8) "Unwanted honking not only irritates others, but may also end up causing accidents. Drivers lose cool and it may result in road rage."
Top advice from the embodiment of patience.
9) "A career in sport is almost impossible to manage without the support, and guidance, and reassurance of family and friends. During tough times, and there always are, this is whom we go to."
Again, for one person to succeed, tens have to sacrifice and lend a helping hand.
10) "I don't get angry very often, but there have been times when I have been frustrated with myself, maybe after playing a bad shot, after getting out, I have done some damage to some equipment of mine. Once or twice in the course of 20 years - I think you can allow me that at least."
Strange to even imagine 'Jammy' throwing his bat around in the change room. But yes, even the best are allowed a couple of off days.