5 Different Types Of Saree In India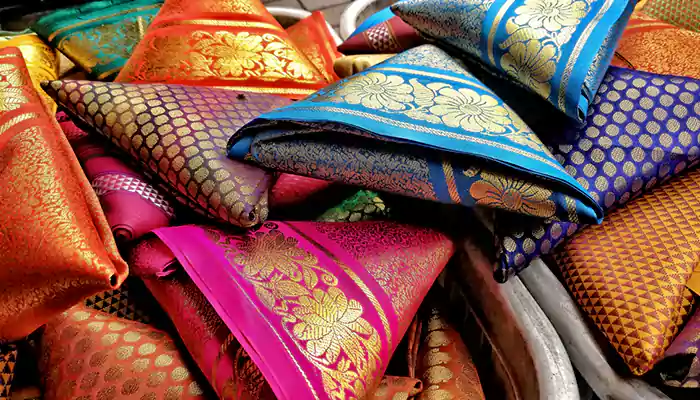 It is not just a tradition, it is a craze and love among the nation
Clothes are a replica of culture and tradition, and when we are talking about Saree, it is definite that the saree is not only a tradition it is more than that, mainly an emotion. India is famous for so many things but the saree is counted in that list with the majority liking from all over the world. Wearing a saree in different styles and patterns, at different festivals or occasions is widely seen in this country. Apart from the style of draping, different states of India came up with signature designs and names accordingly.
Nauvari saree - Maharashtra
This particular saree was designed on the western coast of India and named Nauvari because of its significant length. In Maharashtra, a huge number of women warriors fought during war and battles, as a matter of fact they invented a special type for draping this saree which is called Kashta. Nauvari is usually accompanied by a shawl around the arms and some flowers in the hair and gold pieces of jewellery.
Tant saree - West Bengal
This saree is a replica of elegance and dignity in west Bengal. It is significant because of its material and style. Bengali women never forget to buy Tant on any occasion and the combination of the red border with the white body is widely known for its beauty and authenticity. Heavy jewellery is always recommended with this to look more gorgeous.
Chikankari saree - Lucknow
Chikankari mainly came from Persian art, which is simply elegant and beautiful because of its unique design. Lucknow inherited this special cloth and nourished that with tenderness and care. The heavy but soothing embroidery is stitched all over the saree, which comes in light colours. A minimal amount of jewellery is enough to make it ravishing.
Bandhani saree - Gujarat
From the land of Gujarat, Bandhani Saree came to our town. It is easy to notice and easy to make. This hand printed creation is a result of dye colour usage. A representation of Rajasthani culture is well preserved over time which carries hope and tradition among a lot of women.
Kasavu saree - Kerala
The Kasavu saree is a mark of south India, an emblem of modesty, authenticity, and pride. This white saree combines well with a golden border. It is usually used during festivals or weddings. Gold jewellery is highly recommended for this with white flowers or maybe gajra.
So if you are looking for a stunning look just go and grab a combo from these.