5 female comedians to watch out for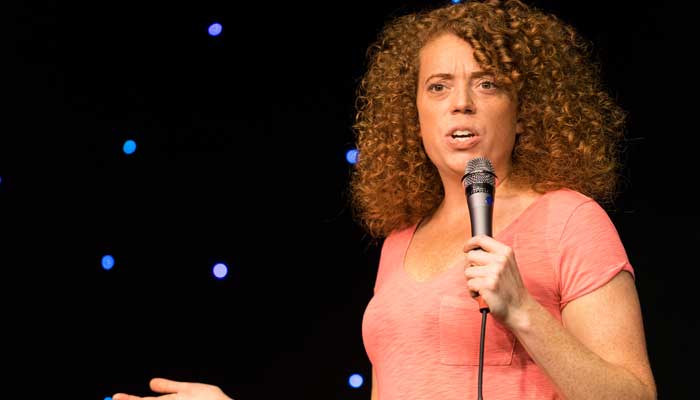 Let's get it clear: Women are as funny (if not funnier) as men. The classic trope of women aren't funny is not true anymore. And it's credible considering female have so many issues, challenges and  threats to overcome to be funny. Their material is contemporary, very day-to-day (look at how Michele Wolf tears the stereotype of everything).Their relatability is spot-on, replete with comic pauses generating snorts and cheers louder than ever.
Here are a few comedians you need to watch to see how comedy does not always mean slapstick, ism-banter to generate laughter.
Aishwarya Mohanraj: Mohanraj quit her job at Nielsen to debut in the first season of Comicstan and she has not looked back since. This woman has got us tickling our funny bone with her pauses, and a sarcastic dose of relatable hilarious content. If you haven't watched her yet, please do.
Michele Wolf: Wolf drops truth bombs and she is unabashed about it. Whether it's calling out on two countries falling apart or nice ladies running for presidency. Her range is massive, her content so relatable, so quotable that you would not have a dull moment.
Urooj Ashfaq: Urooj Ashfaq's comedy is what you get when you've had a religious debate with your Uber driver. Or recent topics like casual relationships. Her freestyle punchlines are so local (Navi Mumbai, anyone?) you have no choice but to agree to her. At 25, she stands tall with her recent challenges of country, family and boyfriends, giving it a unique oh-so-relatable content, you'd go home laughing.
Supaarwoman aka Supriya Joshi: Supaarwoman has had her own share of trauma to generate super content for her comedy. She has accolades as a content creator and vlogging apart from being a cosmetic brand representative. And her comedy is to look out for; not just for breaking stereotypes about body-shaming but for the casual, thought provoking laughter she generates.
Taylor Tomlinson: If you are in your 20's, you will love Taylor. Especially if you are feeling a dread for the quarantine life, you will love Taylor. If you are facing a quarter-life crisis, she is in it and she will provide you with some pretty durable content.
These comedians are proving everyday that being funny has nothing to do with gender.