5 interesting facts about badminton champ Saina Nehwal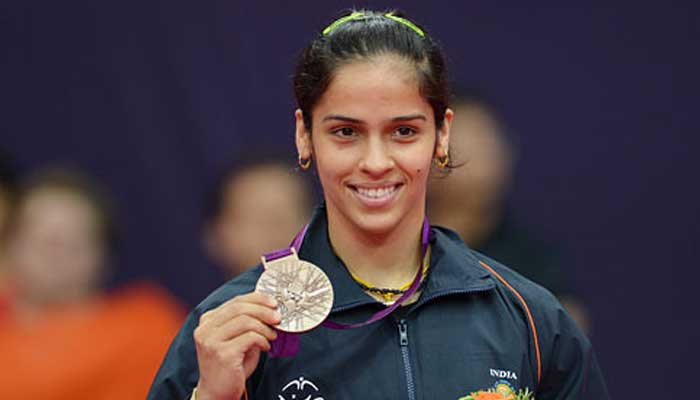 For a long period, Saina in badminton and Sania in tennis became the face of their respective sports in the country.
Often people, especially children, would muddle their names with one other, and the room would either try to correct them or burst into laughter. It was not funny though. In a country of more than a billion, two had shot up to prominence in their sport, and we were struggling to get their names right, the least we could have done.
The two Ss persisted, and now, Indians no longer confuse them with each other.
Here's shedding some light on one of those two Ss, Saina Nehwal, who continues to shine at the badminton court:
Big achievements 
Apart from the Olympic bronze medal, Saini has won the China Open and India Open among others. She also reached the finals of the All England Open in 2015, a rare achievement for an Indian shuttler. Nehwal is the only Indian to have clinched a minimum of one medal in every BWF major individual event.
Celebrated shuttler
In 2009, Saina Nehwal was conferred with Arjuna Award. She was awarded with the prestigious Rajiv Gandhi Khel Ratna award and also the top civilian honour Padma Shri in 2010. No less than an award, Nehwal was one of the eight brand ambassadors at the 2010 Commonwealth Games.
Kicked off with karate
Saina Nehwal gets her badminton genes from her parents, Harvir Singh and Usha Nehwal, both of whom played badminton for the state of Haryana and won several medals. However, Nehwal was not always interested in the racket and shuttle. Her first love was karate, a sport in which she also has a brown belt.
Penned autobiography at 22
She wrote her autobiography, Playing to Win, at the age of 22. She penned the book to inspire people to take more interest in sports. The reason why she wrote it at such a young age was to inspire youngsters to take up sports and dream big like her. The 117-page book captures her journey from the age of nine to becoming an Olympic medallist. It puts into words her struggle and the struggle of her coaches, fellow players and the support staff over the years.
Multi-million dollar endorsement
At the time when Saina was sitting atop the badminton rankings, she was among the highest paid badminton players in the world, with endorsement deals running into more than a million dollars per year.