5 most dangerous airports in the world which might give you the chills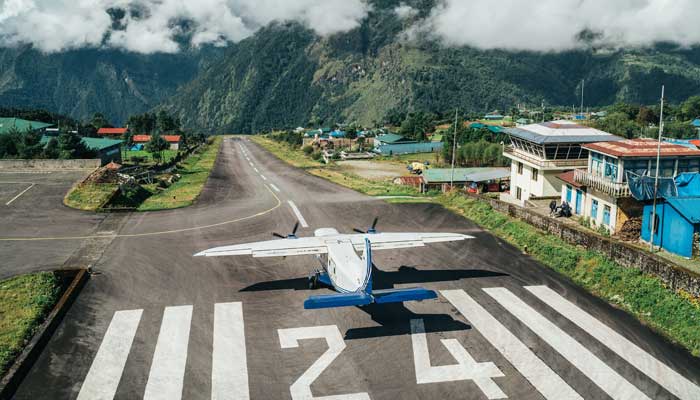 Several people have a fear of travelling by flight, and these airports will leave you terrified for life.
Airplanes are the fastest mode of transport available, and it undoubtedly saves time. Albeit, for some people, flying isn't that easy as it comes with a fear of flight accidents. And these dangerous airports can ignite that fear in anyone because they either have tiny runways above a cliff or ice-covered landing strips. They not only require massive skill to land but also need travellers who can have their hearts in their hands. Take a look:
Lukla Airport: Nepal
This airport drops off in a 2000 mile cliff on one side while on the other side, runs into a stone wall with a walkway to a Buddhist shrine. Despite being so dangerous, it is one of the busiest airports because one needs to go through here if you are visiting Mt Everest. This tiny airport with 1,729 feet runway was originally named Tenzing-Hillary Airport as it was founded by Sir Edmund Hillary in the 1940s.
Courchevel International Airport: France
After Lukla, the Courchevel Airport has even a shorter runway of only 1722 feet. Dropping off a cliff, the airport needs pilots who can touch down at an angle stooped towards the front with a downward gradient of 18.5 per cent. Not to miss, the flight can only land here after manoeuvring through the ice-capped Alps.
Princess Juliana International Airport: St Maarten
With 7,150 feet long runway in the Caribbean, the airport has big planes such as A340s and the 747s landing there because of the tourism. However, they need to land on a runway which is shorter than their length. What's more? The pilot needs to cross a narrow strip of the beach while blowing wind and sand in order to reach the landing strip.
Paro Airport: Bhutan, Himalayan Mountains
Only extremely qualified pilots are allowed to land at the Paro airport because it is surrounded by Himalayan peaks as high as 18,044 feet. The runway is 3,900 feet, which is quite dangerous.
McMurdo Air Station: Antarctica
Antarctica is not on most people's travel list, so of course, the airport is not exceedingly developed here. Set on sleek, manicured ice, the pilot needs to land very carefully in order to avoid skids. Also, the plane's weight needs to be checked so that the landing strip does not crack. Moreover, the pilot needs to wear night-vision goggles as it is dark here for most months of the year.
Are you willing to take a plane and land on these thrilling airports?