5 must-know facts about 'Dhing Express' Hima Das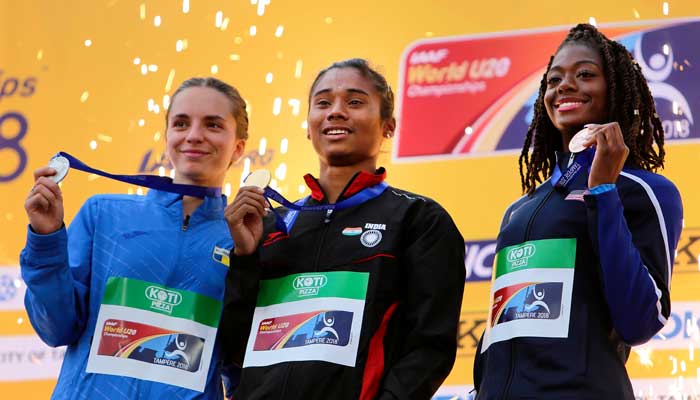 Hima Das shot to prominence when she registered the record timing of 51.46 seconds in the women's 400-meter event at the IAAF World Championships.
The date was July 12th, 2019 when Hima broke the record to become the first-ever Indian track and field gold medallist at the IAAF World Championships.
At just 18, Hima Das clinched gold at the World Championships to become an inspiration for millions of athletes in the country. Here are five worth knowing facts about Hima Das, also known as the 'Dhing Express' for her rapid pace:
Just out of school
Born in 2000, Hima Das was just out of school when she made history. The youngest in the family, Das completed her schooling from the Dhing Public High School and Assam Higher Secondary Education Council. In fact, she cleared her 12th exam in May 2019, just a couple of months before her IAAF World Championships gold.
Wanted to become a footballer
A sport tremendously popular in West Bengal and Assam, Hima was interested in football and would play the sport with boys. She did want to pursue a career in football, but her school coach Shamsul Hoque suggested her to turn a sprinter.
Her athletics coaches Nabajit Malakar and Nipon Das then convinced her parents, taking responsibility for her stay in Guwahati for better training facilities.
First impression on the world stage
The first big event in which Hima participated was the 2018 Commonwealth Games at Gold Coast, Australia in 2018. She did well by reaching the finals but finished in the sixth position.
Coming into her own
Hima became the first Indian sprinter to win a gold medal at an international track event when she emerged victorious in the 400 m final at the World U-20 Championships 2018, held in Tempere, Finland. The breakthrough brought both endorsements and awards. She signed an endorsement deal with Adidas in 2018.
In September, the same year, Das was awarded the Arjuna Award by the President of India. By the time the year ended, Hima had the honour of becoming India's first-ever youth ambassador of UNICEF-India.
Dream run 
In July 2019, Hima was on song and clinched five gold medals for the country. The first of five golds came at the Poznan Athletics Grand Prix in Poland where she won gold in 200 m. Another 200 m gold came at the Kutno Athletics Meet.
Hima bagged her third gold in 200 m on the trot at the Kladno Athletics Meet in the Czech Republic. With golds at the Tabor Athletics Meet and Nove Mesto, Czech Republic, Hima proved her mettle again.