5 Reasons to Visit New Zealand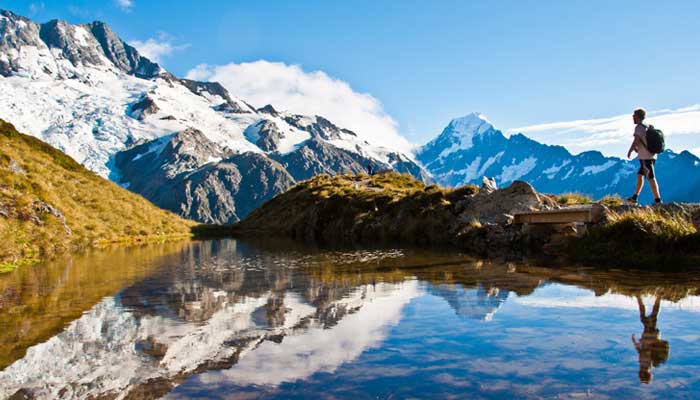 New Zealand- a country that will captivate you with its inherent charm, scenery and culture.
When we think of a place with remarkable scenery and close to nature, no country satisfies it better than New Zealand. The archipelago in the southern hemisphere is full of sparkly beaches and snow Cap Mountains that will draw you to camp your next tour there. Here are five reasons why visiting New Zealand is going to be your most memorable trip ever.
Bungee Jumping To Starry Skies-
If you are a fan of adrenalin pumping adventure sports, this is the ideal place for you. There is no standstill to any scary stuff you ever dreamt of. Be it bungee jumping, swimming with sharks, skydiving, river rafting or hand gliding; everything is on the menu here. People often visit especially to jump off Auckland's Sky Tower with cable cords to watch the glow worms twinkle like stars.
Warm And Welcoming Citizens-
The exceptional hospitality of this country makes you want to tour it again and again. You will always be welcome there no matter when you go and will be offered with everything the citizens have. The capital and local places share complete different stories, and you won't regret spending time in either of them.
Mind-Blowing Scenery-
If you know someone who has visited New Zealand, they will rave not stop about how exotic the scenery is. The diversity of the country is extraordinary. From subtropical forests, live volcanos, snow-topped mountains, ancient fiords, geysers, hot springs, sandy beaches to rain forest... It has everything! The several national parks and rolling hills make it worth your time and energy to visit the country.
The Traditional Maori Culture-
New Zealand is a hub of ancient cultures and traditions. If you have seen the Disney movie- Moana, the Maori tribe dance is going to make you feel right inside the film. The ritual exhibition and storytelling are going to strike you to a whole different level. The traditional feast is something you must try once you are there. If you are willing to go on board and get a tattoo, the tribal tattoo of this place is unique and will be the perfect souvenir to carry with yourself forever.
The Lord Of The Rings Land-
Sway your magic wand to unleash the world of trolls and enter into the set of Lord of the Rings. The movie increased New Zealand tourism, and the caves and natural hobbit houses intrigue visitors to make it a unique trait of the country. Other than the magical terrain, the alpine parrot and the tiniest dolphin to the iconic kiwi are natives to this country and are something worth coming to look here for.