6 products that will aid in organizing your kitchen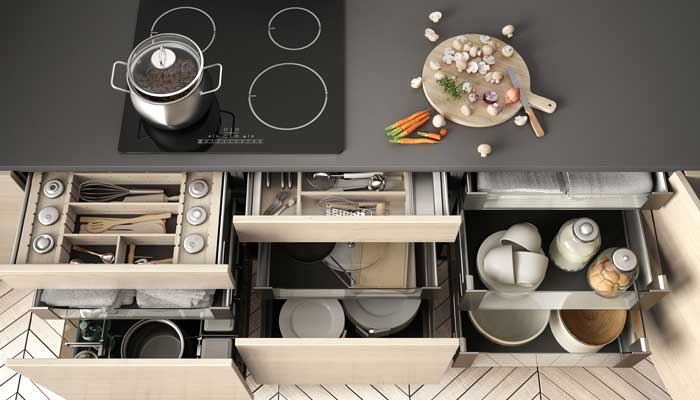 Keeping your kitchen organized can be a challenge. But some products can help you. Yes, you heard us!
The kitchen might be the smallest room in your abode, but it surely has twice the amount of stuff. From spices to utensils and cutlery, it can get very chaotic making your cooking time double chaotic. What's the solution you ask?
Scroll below to find out six genius products that can help keep your kitchen organized.
Using an organizer for your cutlery drawer will help you separate your forks, spoons etc. increasing accessibility and also reducing time. You can also invest in a wall-hanging holder to easily access your most used spatulas and wooden spoons.
Spices are essential for food and every household has dozens of them. To find what you are searching for easily, buy spice shelves. There is a multitude of options you can choose from, which depends on the number of spice bottles you own and the placement of the shelf.
Foods don't stay fresh in their original packaging anymore. Therefore, buy airtight containers that will create a vacuum-like seal preserving your food for a longer time and also organizing your pantry. You can add labels to the containers so you can see what exactly you need when you go shopping.
If you have a small sink and less space around it, you can consider a vertical or side dish drying rack. The vertical rack goes above your sink and has space for your plates, bowls, utensils and soaps. The side rack expands to the side of your sink, which can be folded and kept aside when not in use.
You can double your cabinet space by hanging an organizational rack on the inside of your doors. From small one or two-tier racks to long five or six-tier racks, you have many options available according to your need and kitchen size. Use it to hold your spoons, bottles, spices, plastic bags, soaps and more.
Cabinets, which hold your pots, pans and their lids are always disorganized. Invest in a pull out organizer that you can slide out, choose the utensil and put it back. Additionally, it can also be used to organize your cleaning equipment under the sink.
What are you waiting for? Time to get organizing!