7 Best Christmas Decoration Ideas For Your Home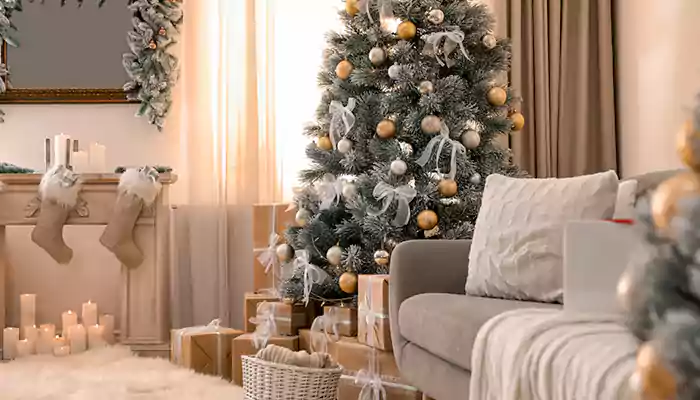 Need unique ideas to make your Christmas decorations stand out? Here are some easy decor ideas to make your home light up.
Nearing the end of the year, we can't help but notice the festive air that Christmas brings. This is a moment that everyone enjoys. Almost wherever you go, the colors red, green, & white are prominent. This includes schools, offices, and public places like shopping centers and eateries. A person's heart does skip a beat at the sight of a Christmas tree every year. If you were thinking of some unique decorations to go with the Christmas there, there are several alternatives to the traditional Christmas tree that we shall discuss below.
Tea Light Holders
A golden candle holder is a choice we endorse. Set it on the table on Christmas Eve for a touch of elegance. What's more, you can also use this for any other happy event, which adds to the pleasure. Put them on a gold plate with some fancy garnishes, and your dinner parties will instantly feel more elegant.
Fairy Lights
Festive lighting isn't complete without twinkling fairy lights. Purchase white and multicolored fairy lights to increase visibility and add glitz to the environment. To provide a cozy and inviting atmosphere, use colorful ornaments to ornament the Christmas tree and strands of yellow fairy lights to adorn the focal wall.
Knitted Decorations
Consider the wide range of knitted ornaments available, from elegant balls to socks and lovely macramé. Hang them from the ceiling, drape them across the mantle, use them as table centerpieces, or use them to decorate a door or an accent wall.
Pom-Pom Decor
Pom-poms are a simple way to inject some playful personality into any space. A strand of fairy lights draped over a garland of white, red, and green woolen pom poms will bring out the room's natural elegance. You may wear them alone or pair them with Santa socks for a cute holiday ensemble.
Glass Balls
A remarkable ornamental object that may be adapted to suit every event. Use the more petite glass balls to decorate your Christmas tree, while the larger ones may stand on their own in a particular spot in your home. The energy of any room may be instantly energized with the help of these balls.
Candles
In any case, you'll need some lighting to get through the evening on Christmas Eve because why limit yourself to candles? Various candle sizes and styles are on display throughout the winter holidays. This means you should utilize them as well.
Green Wreath
Wreaths are an essential part of every holiday display. You may hang a few from the tree or a wall or even place a large one at the doorway. Improve its aesthetic with the addition of flower pots and other bright accessories.