8 Exotic Places with Picturesque Sunset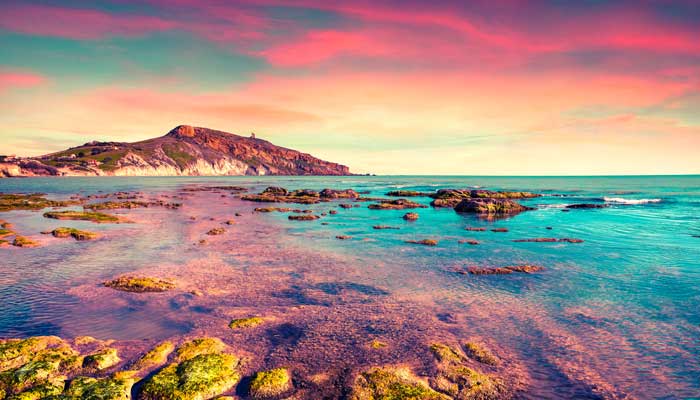 Ideal locations around the globe with gorgeous sunset views to be etched in your memory forever.
Did you ever just gaze out at the setting sun and bask in its ambience? Of course, we have. You don't have to be an opacarophile to embrace the changing colours of the sky, it attracts us to see something so beautiful fading into millions of sparkling stars in a few moments. Here are the most suitable destinations to visit to witness the most picturesque sundowns ever.
Taj Mahal, India-
You must have been familiar to the stunning work of architecture standing in Agra, but if you haven't visited it yet, time your sightseeing in the evening. The glowing radiance of the setting sun in the background of the white marble is something you will never forget.
Atacama Desert, Chili-
You will be astounded to know that the arid desert where even succulents strive to exist, is the home to the most gorgeous sunsets ever. The sandboarding sunsets is a spectacular vision against the tiny oasis and low-lying shrubs where the sun drops in the bone dry sand every evening.
The Matterhorn, Switzerland-
A high altitude skyward location in the Alps, the snow-streaked slopes glows against the sundown vibrancy. The view needs your energy to trek up the hills, but all the hard work is definitely going to be worth it once you get to witness the magnificence of the sundown.
Punta Del Este, Uruguay-
Nothing soothes the soul more than a walk on the beach by the setting sun. The peninsula with Atlantic sea on the side and an estuary on the other, the sun plays with the waves reflecting rich hues on the water, making it worth a visit.
Zanzibar-
Off the coast of Tanzania, the tropical beaches on the island and ideal places to see the sun dip in the ocean. A gentle sail on a boat will make you feel closer to the waves changing its colour to red as the sun disappears in the horizon.
Siem Reap, Cambodia-
Unlike the other locations, Siem Reap is a place to rejoice sunset in a group. A crowd gathers there at 4pm every day and cheers at the descending sun when it touches the tip of Tonle Sap Lake and shimmers like a diamond.
Isle Of Skye, Scotland-
Bring your best lenses to capture the most gorgeous sunset from the ridge of Trotternish. The light show on the landslip looks stunning from the top.
Santa Monica, USA-
Apart from the amusement park, the rides and the beach, which attracts us the most is the evening sun from the jetty view. You might want to stay there and watch the entire evening fade into the sky full of stars.