An attempt at understanding tennis' enigma Nick Kyrgios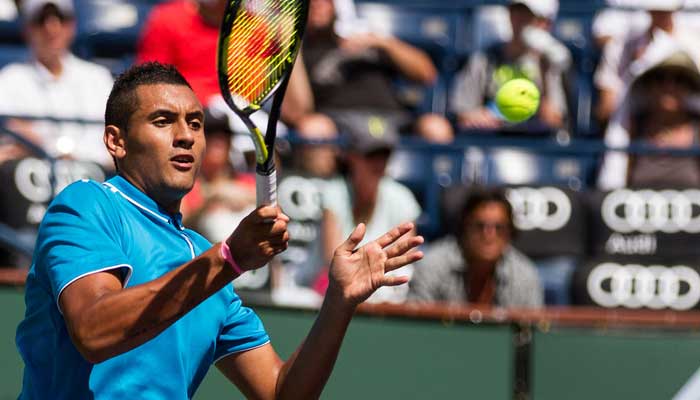 How do you even begin to explain a man who is the best Australian player in a generation, and that is considered an underachievement?
Paradox is the name of the game when talking about the dynamic tennis player Nick Kyrgios.
"I don't really like the sport of tennis that much," Nick Kyrgios once told a UK newspaper. "I don't love it," he added. When Kyrgios said his coach deserved better, one thought that he was just being sweet, for once. But then, he parted ways with him, and left you second guessing.
Ever since he was an overweight, asthmatic kid playing juniors in Canberra, Kyrgios has had this obsession of winning, to the point that the urge to just win overpowers everything else.
That is an imperative for a top-drawer tennis pro, you might argue. And when Kyrgios became the youngest player to hold a position in the men's top hundred ATP rankings and won each of his maiden encounters with Rafael Nadal, Roger Federer and Novak Djokovic, the argument was testified.
But then, he does the most insane things on a tennis court. He wants to win, still he can't help but attempt tweeners – a shot hit between the legs. Not only that, his cross-court forehand slap works around 2 percent of the time, but that doesn't prevent him from trying it often. Truth be told, it is a shot to behold when it comes off.
Kyrgios desperately wants to win, but following the line of his ironical self, he admits to deliberately "tanking" in eight professional tournaments.
His former coach Josh Eagle once revealed that Kyrgios could maintain a position just outside the top 20 while practising for less than 15 minutes a day. Instead, he would play basketball and video games, and let his quick hands and reflexes do the damage on the court.
Your body is your treasure, most sports persons believe in this; not Kyrgios. A tennis player who loves basketball more than his profession, he has injured his hip, shoulder, knee, ankle, back and elbow, sometimes while playing basketball.
The enigmatic personality earned almost $6 million in prize money, but, at the same time, paid almost $100,000 in fines. Forbes magazine rates him the most fun tennis player to watch across the globe. Maybe that is just what Kyrgios is after as he continues to throw caution to the wind – a bit of fun.