Best Balloon Festivals In The World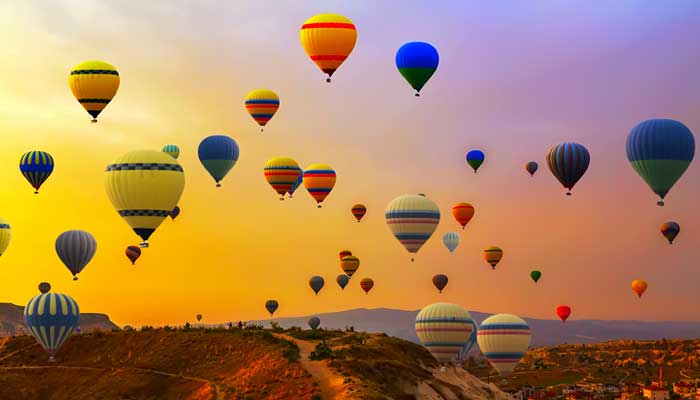 These are some of the world's biggest hot air balloon festival where thousands of people gather to experience the thrill of going up in this precursor to our modern aircrafts.
Adventures of modern aviation began with a trip in a hot air balloon in 1783. One of the French Montgolfier brothers - Jacques-Étienne, the other being, Joseph-Michel, who were the inventors of the practical hot-air balloon, was the one who went up to the sky, in his invention tied with a rope to the ground. A few weeks later, Marquis François d'Arlandes and Pilatre de Rozier, did away with any tether to record the first free flight. We have moved on since then and taken to aeroplanes. But, the thrills to be had in a hot air balloon, not to mention its romantic connotations, has made them increasingly popular and there are festivals to celebrate the flight of this primitive aircraft where people throng to in droves.
Here are the top five hot air balloon festivals in the world-
Albuquerque International Balloon Fiesta – Albuquerque, New Mexico
Held annually in October, this nine-day easily the-biggest-of-its-kind festival attracts close to a million people and over 500 balloons in its desert stretch. Besides competitions, live entertainment, night-time balloon glow is a big draw, as is a themed photo contest.
Saga International Balloon Fiesta - Saga, Japan
Around a hundred balloons of various shapes, sizes and colours are let-off each festival-day along the Kase river bank in early November, which also draws in nearly one million visitors. There's Balloon Fantasia, comprising popular cartoon/funny characters, for children and Hot Air Balloon School for interested ones. Night witnesses balloons, lit from the inside by burners, during La Montgolfier Nocturne, reflecting enigmatically on the water below.
Teton Valley Balloon Rally – Teton Valley, Idaho
Each of this three-day event, celebrating the Independence Day weekend, commences with a balloon launch every morning. This Not-For-Profit event offers tether rides, walk-in balloons and a hot breakfast volunteered by locals.
International Hot Air Balloon Festival – Chateau-d'Oex, Switzerland
The late January Swiss cold is no deterrent for hundreds of balloons from over 20 countries, who gather for duration of over nine days, at the base of the Vaudois Alps, to extend their New Year celebrations. Enthusiasts take a commemorative ascent to memorialize the very first world-travel-in-a-hot-air-balloon attempt that originated from here, in 1999.
Mondial Air Balloons – Lorraine, France
Since 1989 this biennale, at the Chambley-Bussières Air, honouring the bicentennial of the French Revolution, features over 400,000 visitors. In 2017, 456 balloons were set off in a single ascent to a world record.
International Balloon Festival of Saint-Jean-sur-Richelieu – Quebec, Canada
Over 450,000 visitors, make this a perfect end-of-season family-vacation spot which features about 100 balloons.