Best crockery markets in India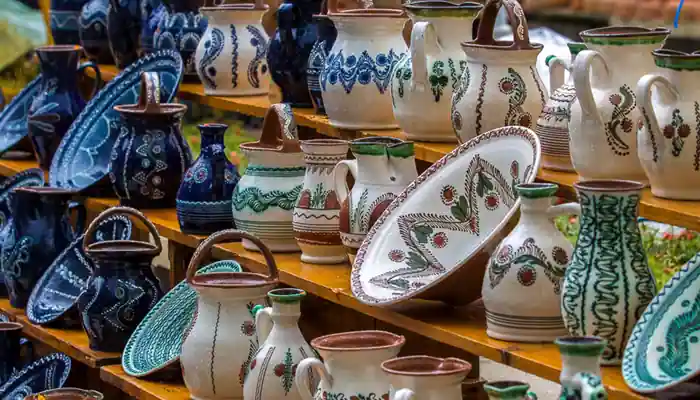 India is a land of diverse cultures and traditions, each with its unique art forms. One such form that has been cherished for centuries is pottery. From traditional earthenware to modern ceramic designs, Indian crockery has always been admired for its beauty and functionality.
If you're looking to add some charm to your kitchen or want to gift someone special, the markets in India offer an array of options. In this blog post, we'll explore the best crockery markets in India that are sure to leave you awestruck!
Khurja - Khurja, a small town in the Bulandshahar district of Uttar Pradesh, is known for its exquisite pottery. The town has been producing crockery for over 600 years and is considered one of the largest centers of ceramics in India. What makes Khurja's pottery unique is the use of red clay that is found only in this region. Artisans mold this clay into beautiful shapes and designs using traditional techniques passed down through generations. The town's market offers an extensive range of crockery, including teapots, cups, saucers, plates, bowls, vases and more.
Sadar Market - Sadar Market Delhi is a bustling hub of activity located in the heart of Old Delhi. This market has been around for over 100 years and is one of the oldest markets in India. It's famous for its incredible variety of crockery, which attracts customers from all over the world. One of the most unique features of Sadar Market is its narrow lanes lined with shops selling everything from traditional Indian sweets to intricate handcrafted pottery. The vibrant atmosphere and colourful stalls make it a great place to explore on foot. While there are many items available at Sadar Market, crockery stands out as a specialty item here. From stunning ceramic plates to beautiful tea sets, you'll find an extensive range of crockery options that will leave you spoilt for choice.
Dilli Haat - Dilli Haat is one of the major tourist spots in Delhi for shopping enthusiasts. This open-air market showcases the rich tradition and culture of India, with stalls selling handicrafts, textiles, jewellery and more from different parts of the country. The bustling marketplace also offers a wide range of food options that represent various regions across India. From spicy chaats to savoury kebabs, you can indulge in a culinary journey while exploring Dilli Haat. One unique aspect about Dilli Haat is that it provides a platform for artisans to showcase their skills and sell their products directly to customers without any middlemen involved. This helps support local businesses and promotes traditional craftsmanship.