Close yet so far: Quartararo, Bagnaia Loses Podium Finish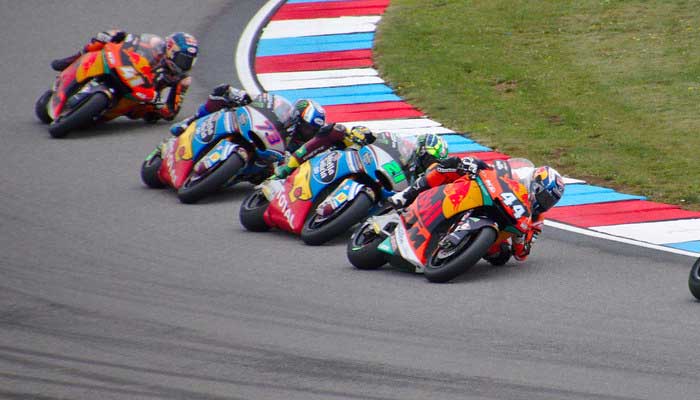 Seven races, six new winners so far. Pramac's Bagnaia could've been the eighth but lost the podium to a "strange crash." 
The ongoing season of the MotoGP premium class is being labelled by fans as the most unpredictable season ever. For the first time, the podium and the world have witnessed six new winners out of the seven races which hint the level of competitiveness happening this year.
On the eve of Sunday at the Misano World Circuit Marco Simoncelli, the world expected another underdog racer and team to lead the way. Fans and moto-enthusiasts were high over heels when Team Pramac's Francesco Bagnaia on his Ducati motorcycle captured the first position in the sixth lap and maintained the lead till the very end. The young racer was doing extremely well until he suddenly crashed out at the Turn 6 and ended with DNF or "did not finish" tag.
Thus, Maverick Vinales from team Yamaha secured the first position. Unfortunate as it is, this incident was not the only let down in the race. A highly deserving Fabio Quartararo from the team Petronas Yamaha SRT too lost his third place due to a penalty.
Quartararo's penalty
The title contender Quartararo struggled to reach the top three since the beginning of the race and kept tailgating Pol Espargaro, the KTM team's rider. The last lap saw Quartararo going past Espargaro and securing the third place. However, the Petronas Yamaha SRT racer received a Long Lap penalty on his dashboard.
The penalty was handed over to him for going out of the track for five times in the race due to which, Quartararo finished in the fourth place. "Unfortunately, I got the Long Lap penalty, but the Race Direction didn't send me any message of track warning. So, I was a bit surprised. Normally when you exceed track limits three times, you have a warning. And when you have a track limits warning, you take much more care. I didn't see any warning," said Quartararo while addressing the media.
Fabio Quartararo was also spotted displaying his frustration towards the race officials who failed to give him the warnings for the first three errors.
Bagnaia's strange crash
Leading the race, Bagnaia was on the verge of winning his first MotoGP podium. However, fate had another plan as the racer crashed out of the race without any fault of his own. After a thorough inspection of the motorcycle, Bagnaia said, "The crash was incredible, because looking at the data- the speed was the same, the lean was the same, the gas was the same, the line was the same. So, it looks like I have touched something like a tear-off or a dirty thing on track."
"Today, I'm not happy because losing the race like this is very disappointing," concluded a sad young Bagnaia with the hope of winning the next race.