Conscious travelling! Villages to visit in India for a tryst with the nature and practice sustainable living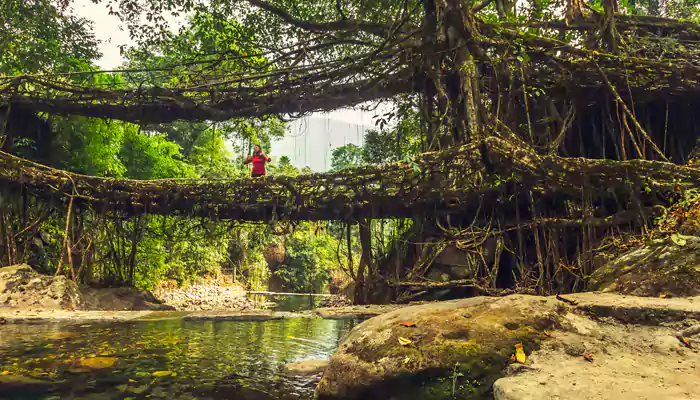 These communities have shown that it is possible to lead a sustainable life if the necessary steps are taken.
In India, there are several villages where a large portion of the population still lives. However, over the years, these places have started to emerge as eco-friendly communities. These are places where people can live in harmony with nature and be sustainable.
Due to the rapid urbanization and the increasing number of people living in India, it is now more important than ever that the country's residents adopt sustainable practices. This is why various cities and towns are working together to create eco-friendly spaces.
Mawlynnong, Meghalaya
Situated in a beautiful location with crystal clear water and a lot of beautiful views, the village of Mawlynnong is known for its eco-friendly practices. It has a clean and well-maintained road system and is also home to several bamboo trash bins.
Auroville, Pondicherry
In Tamil Nadu, a spiritual village known as Auroville is known for its non-violent activities. This community is dedicated to giving back to the environment in a big way. It runs various programs and activities that are designed to help people become more sustainable. This area is a must-visit for anyone who is interested in learning more about sustainability.
Khonoma, Nagaland
One of the most popular tourist destinations in India is the village of Longmei in the state of Nagalim. This area is known for its beautiful natural beauty and is also self-sufficient. This is because it has a 700-year-old settlement that is composed of Angami tribesmen.
The people of Longmei are passionate about preserving their environment and culture. They have taken ownership of their surroundings and are dedicated to improving the quality of life in the area through sustainable practices.
Odanthurai, Tamil Nadu
The people of Odanthurai have taken ownership of their environment and are dedicated to improving the quality of life in the area through sustainable practices. One of the main factors that makes this village an eco-community is its ability to produce its own energy.
This village has been able to produce its own energy through the use of wind energy. It has also sold the surplus energy to the local electricity board.
Hiware Bazaar, Maharashtra
In the village of Hiware Bazaar, located in the state of Maharashtra, the people of India have been able to avoid experiencing another drought by focusing on dairy farming and horticulture. In 1995, the villagers gave up on growing crops that were heavily affected by the previous drought. The various water-saving measures that the villagers implemented helped the area's groundwater levels recover.