Elevate your party look with these hairstyles for long hair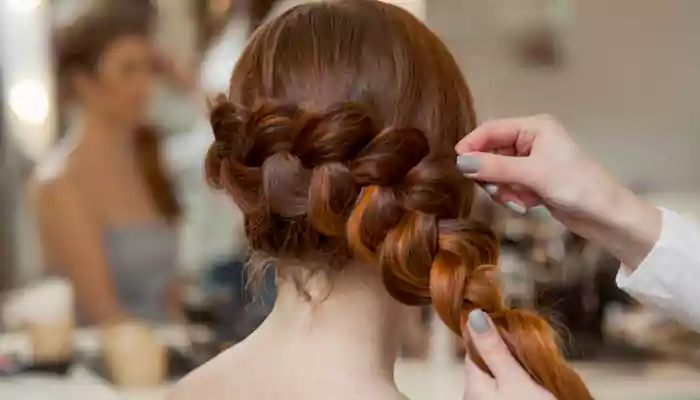 Dive into the World of Long Hair Party Perfection
Long hair is like a blank canvas with endless possibilities. The allure it carries is undeniable, especially when you have a plethora of hairstyles to explore. Elevating your look for a party or any special occasion becomes a breeze with the right styling. Armed with some cool techniques and styling tools, you can find the perfect look that complements your outfit. But before diving into the styling extravaganza, ensure your hair is in top-notch condition. Well-nourished and healthy locks are the foundation of any great hairstyle. Treat your tresses to regular trims and use nourishing products to maintain that enviable shine. Now, let's dive into the world of stylish and fun party hairstyles for your luscious long locks!
French braid with bangs
Transforming your party look can be as simple as embracing the classic charm of a French braid, amplified with a touch of flair—enter the French Braid with Bangs. Elevate this timeless hairstyle by incorporating trendy curtain bangs into the mix. Start by separating your bangs and giving your hair a light spritz of hairspray for that extra hold. Now, the choice is yours: go for a sleek appearance with some hair straightening action or embrace a more carefree vibe by letting your locks stay a bit wavy. Begin crafting a loose French braid, allowing the strands to cascade effortlessly. Secure the look by tying a hair elastic just about 2 inches above the ends, and voilà, you've got a stylish twist on a classic.
Carefree fishtail
Don't underestimate the power of a ponytail—it's not just a look, it's a canvas for playfulness and fun, especially when adorned with a messy fishtail braid. This carefree style adds a touch of whimsy, particularly suitable for wavy or curly locks. To achieve this effortlessly chic look, kick things off with a French braid until you reach the nape of your neck. Transition seamlessly into a fishtail plait, securing it with an elastic band. Now, here's where the magic happens—gently pull the plait apart for that intentionally frizzy allure, allowing a few strands to gracefully frame your face. Seal the deal with a spritz of texturizing spray, and you've mastered the art of the messy fishtail, turning a simple ponytail into a style statement.
Glamorous side-swept hairstyle
Embrace the allure of the side-swept hairstyle, a quick route to instant glamour for any event. Elevate this chic look with a touch of dazzle—opt for a rhinestone barrette or keep it effortlessly elegant with bobby pins. Begin the transformation by blow-drying hair in sections, wrapping it around a large brush for added volume. Carve out a deep side part for that extra flair. Utilize a curling iron to create soft curls, directing them away from the face in two-inch sections. Gently break up the curls with your fingers, and seal the style with a texturizing spray, ensuring your hair gracefully sweeps off to one side, completing the sophisticated look.
Grecian braided crown
Indulge in timeless Grecian elegance with the mesmerizing Braided Crown—an iconic and stunning hairstyle. Begin by parting your hair into two sections, seamlessly flowing from the front to the back. Employ the graceful waterfall braiding technique, intricately weaving braids on both sides. Now, let the magic unfold as you wrap the braids' tails around your head, sculpting a regal crown that exudes sophistication and charm. This ethereal hairstyle transcends time, offering a captivating blend of grace and allure for a look that stands out on any occasion.