Essential Tips to Remember While Choosing Your Wedding Dress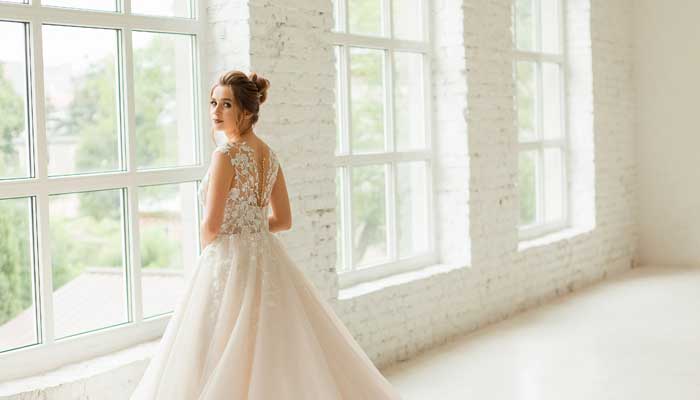 Ease out the stress while selecting the perfect wedding ensemble for your big day with some helpful tips.
So your wedding date is set. All bookings are made. And you need to do a lot of preparations for your special day. The first question that you will be asked is – What have you decided to wear at your wedding? You have all the ideas in the world, but you seem to be clueless about the whole exercise. You are bombarded with suggestions and opinions, and even then, there is a lot of confusion in your mind about your wedding attire.
Sit back and take a deep breath. Here are some helpful tips which are going to clear your doubts about your wedding shopping.
Working on a budget
Remember, wedding outfits are expensive. Even if your heart is set on a jewel-encrusted outfit, you need to draw a line to limit your expense and turn a little realistic about your dream wedding dress. Once the budget is settled, you could start visiting boutiques, stores or bespoke designers to get an idea about the price range of various designs before pinning down on the final deal.
Clarity in your choice 
Don't hesitate or shy away from asking questions so that you can have a clarity of thought on what you want to wear. They are professionally trained to assist you with any queries. Once you have made up your mind, you need to put aside your temptations to consult other stores and stick with the final choice that you have made.
Choosing the right fabric
The bridal dress should be made in accordance with the fabric that suits your body type. Also, it is important to keep in mind to choose the right kind of cloth to be worn in the season. For example, heavy silk, satin and velvets should be avoided in a tropical summer climate and should be replaced with more breathable fabrics like natural fibres, light silks and cotton.
Wearing the right accessories 
A wedding outfit should be complemented with the right kind of jewellery, footwear, make-up and hairdo to create an overall impact which would sweep your partner off his feet! Always consult your designer while shopping for accessories to be worn with the dress. The totality of the whole look should be considered while working up on the finer details.
To sum it up, it is important to enjoy each and every moment before the wedding. The wedding shopping is one of the many exciting aspects of your big day, and you must enjoy the whole experience. So the bride shall have a happy glow on the day of her wedding.