Five No-Fail Color Combinations To Paint Your Kitchen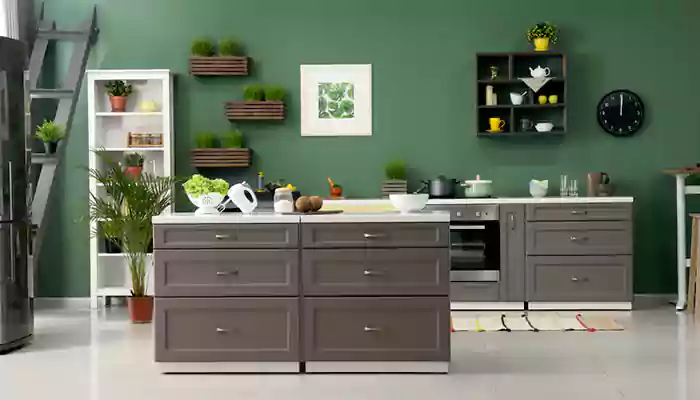 Your cooking space should express your personal style, and color can help add personality to your kitchen.
The color options for your kitchen involve almost every surface, but to opt for a no-regret approach, it is essential to use colors in the desired proportions. We spend a lot of time in the kitchen every day, so we should consider transforming it into a delightful space. Whether you want subtle neutrals or striking saturated hues—wisely picking colors for your kitchen will help add a more inviting and personal touch. Check out some no-fail color schemes to paint your kitchen.
Gold with Navy Blue and Gray
Gold with navy blue is a bold and bright color scheme for the kitchen. To make your kitchen look preppy, use navy blue on the base cabinetry or the island and gold on fixtures and hardware. And for a backsplash, use gray tiles to create a stage for the striking blue kitchen island.
Green with Gold
Green helps ground kitchens when used on large surfaces like walls or cabinets. To illuminate a saturated hue, consider adding reflective white surfaces — like stone and tiles — and incorporate metallic gold accessories like cabinet hardware, light fixtures, and faucets. The shiny accessories will reflect light, adding a sparkly touch to your cooking space.
Green with Dark Gray
Combine dark gray or slate with refreshing lime green hues to add a modern spin to your kitchen. Use gray on the permanent kitchen elements and keep green for modifiable accents like rugs, island stools, countertop accessories, and artwork. If these color schemes make your kitchen look gloomy, balance the hues with white on the walls, the backsplash, or the upper cabinetry.
Orange with Black and Gray
This bold color scheme looks aesthetically pleasing when partnered with blaze-orange or flame-orange cabinets and a warm gray kitchen island. Countertops made of dark-stained wood and white ceiling beams can add a natural touch — creating contrasts with other modern elements.
White and Pink
Incorporate shades of pale pink and crisp white to offer an elite look to your kitchen. This color combination can offer a garden-fresh and feminine vibe. Begin with plenty of light pink accents like furniture, dish towels, artwork, and other accessories, and then opt for a pink backsplash or kitchen cabinets if you are feeling bold.
To energize your kitchen, add these color schemes to the cabinets and walls, and incorporating bold hues or soft neutral shades will make your cooking space appear larger and more stylish.