From Chole Bhature To Litti Chokha: Famous Foods from Different States of India (Part II)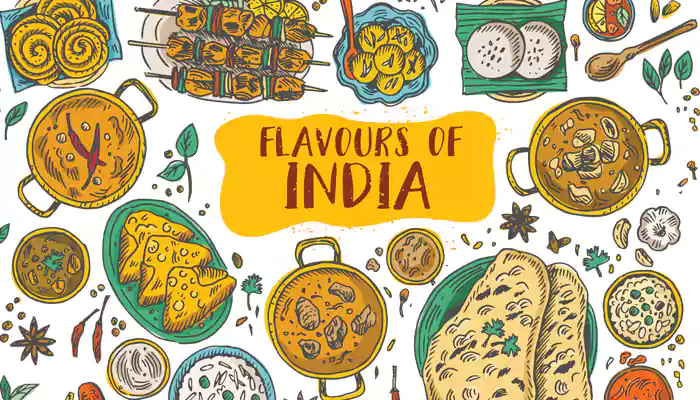 Each state in the country has their own native food and India is no exception.
Let's talk about the famous food items from different states of India.
Litti Chokha (Bihar)
Litti Chokha is a pastoral and traditional dish made by filling wheat dough balls with a spiced mix of roasted gram flour or sattu and eaten with mashed potatoes and tomatoes. 
Litti Chokha is a common food in Bihar and Jharkhand. It actually originated to feed farmers as lunch as it's easy to prepare and fills one's tummy for a long period of time. Slowly it became a famous street food and became quite famous because along with being tasty, it's not costly also. Today it spread out of Bihar and Jharkhand and became a famous street food, especially in north India. Contrary to popular belief, it's not prepared in households of Bihar and Jharkhand as it's easily available as street food.
Misal Pav (Maharashtra)
In Maharashtra Pav (round-shaped bread) is used in various kinds of foods and misal pav is one of them. 
Misal pav is quite famous street food in Maharashtra. Apart from street food, it's prepared in many households mostly as a quick breakfast which will keep you full till lunchtime. It is prepared using sprouts, topped with finely chopped onions, tomatoes and 'farsan'(fried savory mixture) and lime juice served pav, heated on the pan with a hint of butter as a curry which is then eaten with pav. Many people eat it as an evening snack with a hot cup of tea or coffee. If you ever get a chance to visit Mumbai, you shall try misal pav at least once and it's for sure that you will love it.
Makki Di Roti and Sarson Da Saag (Punjab)
Makki Di Roti & Sarson Da Saag is a staple food of Punjab and it's for sure whether people ever ate it or not but heard the name in numerous Bollywood movies.
Makki di Roti and Sarson ka Saag is made popular by Bollywood where whenever anything related to Punjab comes up, Makki Di Roti and Sarson ka Saag is mentioned most of the times as if Punjabis eat Makki di Roti & Sarson ka Saag with a big glass of lassi all their lives. They have many other dishes also and Makki Di Roti and Sarson Da Saag are one of them. Instead of whole wheat flour, flat unleavened bread made from corn meal is used and 'Sarson saag is made from the leaves of Mustard. Makki Di Roti is topped with butter and eaten with curry made from mustard leaves along with a big glass of sweetened lassi.