Home office decor ideas to maximize productivity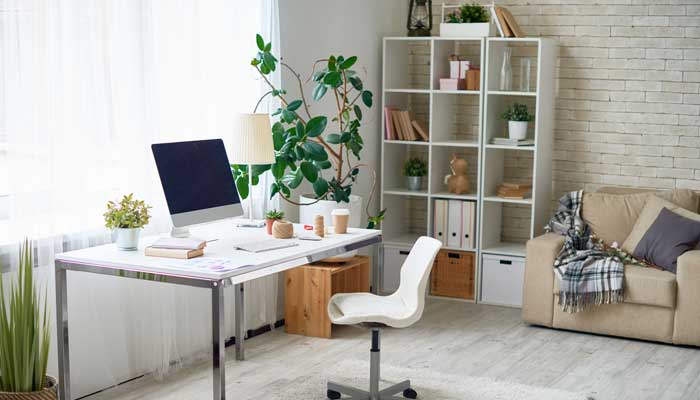 These simple tips will help spruce up your home office so you can be more creative and productive.
Creating a home office with the right elements can help maximize productivity and boost creativity. Simple touches can go a long way to transform that little space to make work from home life easier. Here are a few tips to make an environment that is inspiring and pleasurable to get your work done.
Add a bit of greenery: Add a few plants to revitalize your space. It can also make your workspace feel calmer and keep the air clean. A snake plant, ZZ plant or money plant are some options you can try. These plants are also super easy to take care of.
Go chic: You don't have to break the bank to make your work environment stylish. While you want it to be functional, don't be afraid to show off some of your personality. A black accent wall or a pretty chandelier can add a bit of glamour.
Add some art pieces: A striking painting or a breathtaking photograph can help decorate the space in simple ways. You can even hang your artwork on the walls or table.
Get a bold rug: A multi-coloured rug can brighten up your space and bring in all the elements of your space together. Keep your furniture clean and simple. Don't be afraid to add a bit of texture.
Mix and match: A combination of vintage and modern decor items can add a whole lot of warmth to your home office when done well. A colourful chair paired with an antique rug can be a fine match. Look around your home and experiment with different items and furniture to discover what will work well in your workspace.
Organize your space: When designing your workspace, ensure you make use of every bit of it. That means making sure there is a space for everything, from your printer to your files. Working in a messy area can throw off your entire day.
Natural light: Make sure you can get enough natural light. If possible, create your work environment near a window. Choose a spot that feels good and emits positive vibes. Making sure you get enough sunlight can make you feel better and have a positive impact on your mood.