Most Expensive Ferraris of All Times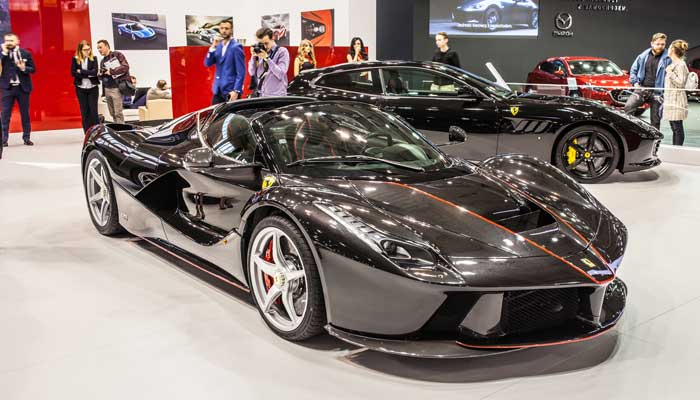 Owning a Ferrari is a real wishful thinking. It takes a truck load of money just to bring the wheels home. And yes, there is a price hireachy among them. Here's a primer.
What started as a love for sportscar racing for Enzo Ferrari soon became an elitist indulgence. On an average, a Ferrari should set you back by US$ 2-4.5 million, and that is just the card rate. These limited edition beautiful beasts, specially the vintage species are sought by collectors with vehemence, further jacking up their prices. At least hundred Ferrari prices have reportedly hurdled over US $4 million. Here  feast your eyes with their purchase tags.
LaFerrari Aperta, 2017, US$4,733,647
A LaFerrari Aperta sold at a RM Sothebys auction in 2017 for €8,300,000 which is close to $9,980,000, thereby setting the record for the most amount of money ever spent to acquire a Ferrari. Even at its catalogue price,  it is the most expensive stock in the Ferrari menu. By design, only 499 persons on earth can own one. Though most prefer to remain anonymous, Jay Kay, lead singer of Jamiroquai and pugilist, Floyd Mayweather Jr., who also owns an Enzo, are known to take to its wheels.
Ferrari FXX-K, 2017, US$4,170,118
Derived from the LaFerrari hybrid street-legal sports car, this limited edition model is the brand's first track-day hybrid offering. Like the previous FXX and 599XX versions, it is accessible to the owners only on track-day events. The 'K' represents KERS - kinetic energy recovery system, which adds oodles of vroom.
Enzo, 2003, US$2,407,163 (approx)
Curated by Pininfarina's head of design, Ken Okuyama, as a dedication to Enzo
Ferrari, all the lmited run of 399 units, bearing a price tag of US$659,330, where booked by F40 and F50 owners, even before the production had commenced.
288 GTO, 1984, US$2,265,419
For nomenclature freaks, GTO expands to Gran Turismo Omologato (Italian for Grand Touring Homologated.).  Powered with a GTO Evoluzione kit - the most advanced mechanics for its time in a kevlar and carbon-fibre coachwork complete with advanced safety measures, it topped the 'Greatest Ferraris of All Time' list by Motor Trend Classic in 2010 and named the 'Hottest Car of All Time' by
Popular Mechanics in 2015.
F40, 1991, US$1,873,466,
Built to celebrate the 40th anniversary of the brand, this mid-engine, rear-wheel-drive is as iconic a sports car as it is expensive, a shade under US$2 million. It was the very last design to roll under the futuristic gaze of Enzo Ferrari.
599 Pininfarina, 2011, US$1,600,000
With only eighty copies pressed to immortalize Pininfarina's 80th anniversary, it is the most limited of the limited-Ferrari series. It calls for both a powerful - 6.0 liter, V12 engine with a modified the 599XX exhaust, and a pleasant - a removable cover, ride.