Most Iconic Ferraris Of All Times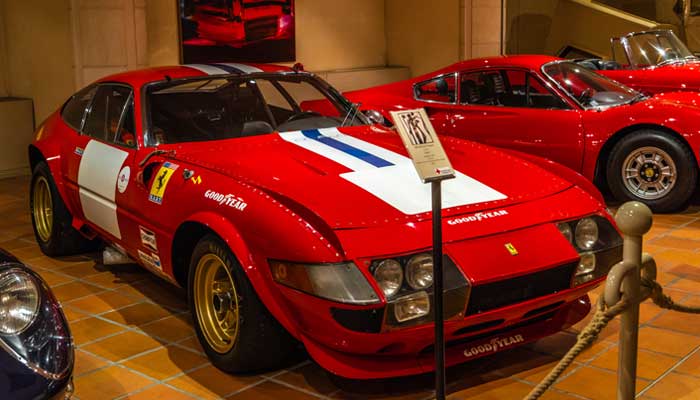 A red Ferrari is one of the most coveted object, be it a classic or an exotic model.  Here is a list of the greatest Ferraris ever built
Prancing horse logo, bold and beautiful designs, avant garde engineering, formidable performances of race and road cars alike have elevated the Ferrari brand into the realms of myths. Till 2019, Ferrari technically founded in 1940, has produced only 10,400 cars per year. Demand outstripping supply by miles, practically every Ferrari car is an icon. Difficult to choose but still, here's the most iconic Ferraris of all times and yes they all come in delicious red.
LaFerrari
The first hybrid drive system to ever come out of the Ferrari stable, LaFerrari fitted with a 6.3-liter, V-12 engine can hit 200kph (124mph) in just seven seconds. Only 449 units of this beauty were released.
365 GTB/4 Daytona
Often considered the most lovable model, 365 GTB/4 helped Ferrari to accomplish a much coveted 1-2-3 finish at the 24 hours Of Daytona in 1967. Produced between 1968 and1973, this beast, unofficially named Daytona carries a 4.4-liter, 352-horsepower V-12 engine.
Dino 246 GTS
One of only few Ferraris without the famous prancing horse badge, it is named after Alfredo, late son of Enzo Ferrari. Equipped with a 2.0 litre V6 Engine, it was one of the first ones to come out of Maranello, Ferrari's hometown, since the 1940s.
F40
At the time of its launch, the F40 boasted of being the most powerful Ferrari ever with a 2.9-liter, twin-turbo 471 horsepower V8 engine. Since then Ferrari has made more powerful gallops, yet, this being the last design developed under Enzo Ferrari, the nostalgia involving F 40 makes it iconic.
Testarossa
Production of flat-12 engines by Ferrari was retired after this Pininfarina-designed  model which has a distinct 80s vibe. Featured in US TV series, Miami Vice, Testarossa, then most powerful supercar, admired for its sleek modern lines, made Ferrari a household name.
288 GTO
Originally intended for Group B circuit racing, 288 GTO was the precursor model to F40. As the model grew in popularity, Ferrari decided to make this an exclusive Supercar. Initially only 200 units were planned to be manufacture but another 72 were added to quench the demand.
Enzo
An homage to Enzo Ferrari, this supercar harnessed Formula 1 Technology, an F1-style transmission wrapping it with a  carbonfibre chassis. Manufactured in 2002 to its 660-hp V12 engine can clock a top speed of 218 miles per hour.
308 GTS
None other than Tom Selleck drove this around in Magnum P I. Debuting in 1977 bearing a 2.9-liter, 255-horsepower V8 engine, this Pininfarina designed boy-toy became a 70s thing - an ultimate posesion of that era.