Nutritious Dishes Straight Out of the Air Fryer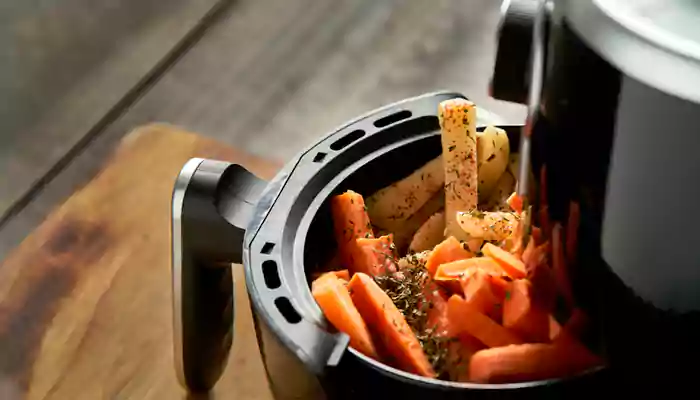 Well, if done right, air fryers could be your next big game-changer!
Those who do not like cooking or have little time to prep a meal, an air fryer is a saviour to them. As an incredibly convenient option over traditional methods, air fryers are known to reduce drastically the cooking time without compromising the taste of the meals. To mention some of the well-known advantages of cooking in an air fryer--
Use of less fat
Preservation of certain nutrients
Lower calorie intake
Reduction in acrylamide which causes drowsiness and muscle weakness
One of the marketing gimmicks of selling fryers is highlighting their health quotient especially when compared to deep-fat frying. Indeed, air fryers have certain health benefits but any meal prepped inside it is still technically classified as fast food. In fact, air fryer foods are directly linked to the cause of obesity, type 2 diabetes, certain types of cancers, and heart ailments. Most food ingredients are deprived of the healthy fat content once put inside the fryer. So, how to leverage the most satiating and healthy meals from air fryers?
Healthy Air Fryer Recipes for your Next Bite
Since air fryers are no less than a reliable go-to option, a trusty sidekick, in an otherwise busy and monotonous lifestyle, there is no doing away with them. At least not now! Instead, it is only possible to come up with creative ways to churn out the best quality meals out of this inventive kitchen appliance without going berserk on gut and digestion.
Sweet Potato Fries for the Weekday Blues
An easy solution for sudden cravings for snacking, you will need a pretty simple and hassle-free ensemble of ingredients to fry the potato slices:
Sweet potatoes
Olive oil
Salt
Pepper
Garlic powder
Paprika for seasoning
Spray the basket with cooking spray before putting the seasoned potato slices in a single layer. You would want to avoid congesting this space or even over-layering to make sure the cooking is even and smooth. Cook the slices for about 15-20 minutes at 375°F and serve pronto.
Snap Peas for Chill Weekend Nights
The recipe is served in an astounding 10 minutes which makes it an all-time favourite. You will need,
Snap peas with the strings removed
Olive oil
Chili powder
Lemon slices
Heat the peas for 10 minutes at 400°F and then mix them with oil, chili powder and salt. Put it in the grill basket till they are charred and tender. Now, squeeze the lemons on top and serve with wedges and cilantro. This dish is a household alternative to packaged and processed chips.
Fryer Granola Bark FTW
Savoury delights especially for the festivities, air fried granola barks are one lip-smacking way to get your desired level of fudginess.
Maple syrup
Vanilla extract
Olive il
Oats
Almonds—roasted and salted
Sunflower seeds
Almond flour
Ground cinnamon
Fresh fruits
You need to make a batter with the ingredients and let the mix dry by pouring maple syrup. Bake till they are golden on the edges and let the slices cool in a pan. The barks can then be served with fruits and juice.
Fryer Beans for a Quick Party
Air-fried green beans are amazing to munch on. The dish could be customised and made more delish as per individual preferences. You will need to preheat the fryer to 375°F before putting in a bowl of trimmed beans mixed with olive oil, salt, garlic, and pepper. Cook in the pre-heated fryer for about 8 minutes at which stage the slices should be slightly charred and tender. Enjoy the goodness of the greens with a steaming cuppa.