Playful ways To Wear Polka Dots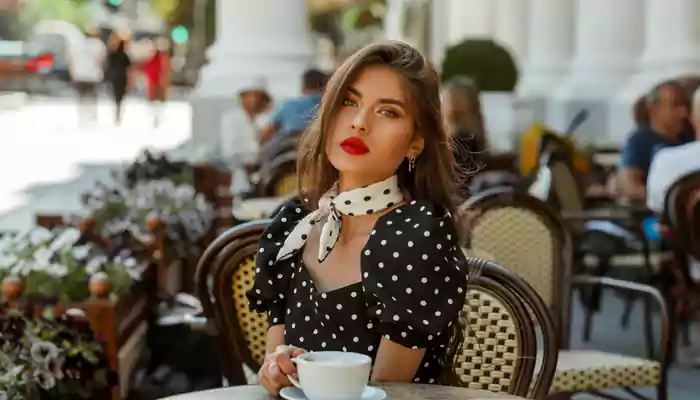 Here are cool and stylish ways to rock the classic print
Polka dots, a timeless printed pattern in the world of fashion, have a rich history, lending a captivating graphic allure to any attire. This versatile pattern introduces depth and visual interest to a wide range of outfits. While polka dots tend to trend during the spring and summer seasons, their enduring appeal transcends specific times of the year. Although the classic black-and-white combination remains a popular choice, polka dots can look fabulous with a variety of colour combinations. The statement-making quality of this pattern also allows it to shine on numerous outfits, from sophisticated to whimsical. Discovering the ideal polka dot look for your unique style is all about enjoying the process and experimenting with diverse outfit concepts, striking a harmonious balance between retro and contemporary aesthetics. Here are some cool and playful ways to inject your wardrobe with fashionable polka dot flair.
Polka dot dress
Polka dot dresses are fun and stylish. They come in a variety of styles, lengths, and colours. They sometimes feature a fitted bodice and a flared skirt. The polka dot pattern also varies in size and spacing, which can help you discover what works for you. Larger dots create a bold and retro look, while smaller dots create a more modern look. A polka dress can be super versatile and can be worn for various occasions. You cannot go wrong with a black and white polka dress. You can also try this pattern in pastel hues. Complement this look with stylish sunglasses or a chic straw hat.
Polka dot blouse
A polka dot blouse is comfortable and flattering. Experiment with this style in various materials, like silk, chiffon and cotton. You could
opt for a stylish brown dotted blouse or one with a striking detail like bows at the cuff. For a modern and trendy look, pair a long-sleeve polka dot crop with jeans. If you are going for a sophisticated look, pair your polka dot top with neutral shades. A stylish strappy sandal can complete this look. Stay clear of sneakers and flip-flops for this look.
Off-shoulder polka dot gown
If you are in search of the perfect attire for a special occasion or a formal event, consider donning an off-shoulder polka dot gown to exude an air of sophistication. Opt for luxurious fabrics such as silk, chiffon, or satin for a touch of elegance. Complement your ensemble with subtle and refined accessories like a delicate choker or dainty short-drop earrings. Complete your look by styling your hair in a sleek bun, allowing the dress to take centre stage.
Polka dot skirt with a sweater
From contemporary to vintage-inspired, polka-dot skirts offer a diverse array of stylish choices, particularly ideal for the cooler months when paired with a chic sweater. Whether you opt for a mini, midi, or maxi skirt in elegant shades of rich browns or classic black, the versatility of these pieces shines when combined with an oversized sweater. Your sweater choice can range from a neutral hue to a complementary colour that enhances the charm of your polka dot skirt. This ensemble possesses the flexibility to be elevated or relaxed with the right accessories. For a laid-back, casual look, sneakers or flats work seamlessly. To achieve a more sophisticated appearance, consider adding heels and eye-catching jewellery.