Roger Federer vs Rafael Nadal: Best matches between tennis legends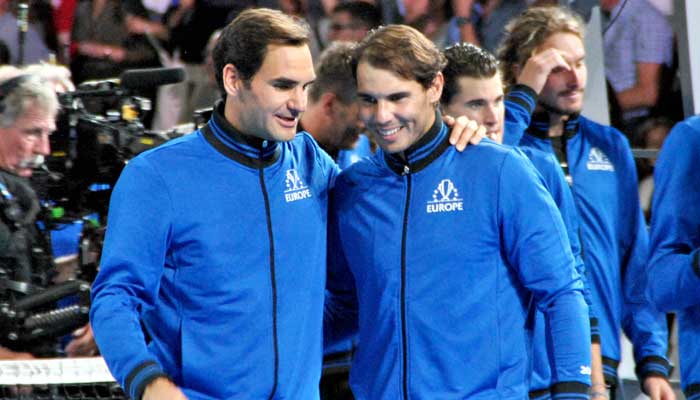 Nadal may have a lead of 24-16 against Federer, but whenever the two legends meet, you are in for a treat.
The last time Roger Federer and Rafael Nadal met in another of their mouth-watering clashes, it was the Wimbledon semi-final in 2019. This was the 40th time that the two tennis legends came head to head against each other over a 15-year period.
The Swiss maestro was at his aggressive best on return of serve, at the net and in long rallies to beat the then World No. 2 Nadal 7-6(3), 1-6, 6-3, 6-4 in the semi-final - a battle which lasted for over three hours on Centre Court.
Despite that, the Spaniard leads the Swiss 24-16. Here's a look at some of the most memorable matches between the two over the years:
2005 Miami Open final — Federer wins 2-6 6-7 (4) 7-6 (5) 6-3 6-1
The Miami Open final in 2005 was only the second time the two came face to face with each other on a tennis court.  Just 18, Nadal was the youngest finalist in Miami history, but his game didn't lack maturity as he took the first two sets. However, Federer made his experience count to keep his world number one status as he clinched the third-set in a tie-breaker before easing past Nadal in the last two.
2008 Wimbledon final — Nadal wins 6-4 6-4 6-7 (5) 6-7 (8) 9-7
In a seven-hour match which John McEnroe described as "the greatest match ever played", Nadal won the fifth set to finally pocket his first Wimbledon title. In a contest marred by rain, Federer had to come back from two sets down to take it to a fifth with two tie-breaks, but Nadal held on, finally winning by 9-7 in the final set.
2017 Australian Open final — Federer wins 6-4 3-6 6-1 3-6 6-3
Nine years on, both players were not willing to either slow down or take it easy when they squared off in the 2017 Australian Open final. It was not a surprise that the match carried on for five sets this time as well.
While Nadal had not won a grand slam since the French Open in 2014 and was coming on the back of several injuries, Federer, too, had last won big at Wimbledon in 2012. There were no tie breakers to take the breath away of the viewers, but with Nadal battling from a set down twice, Federer had to work hard to achieve his 18th grand-slam title.