Rose Water: 5 Ways to use for your skin and hair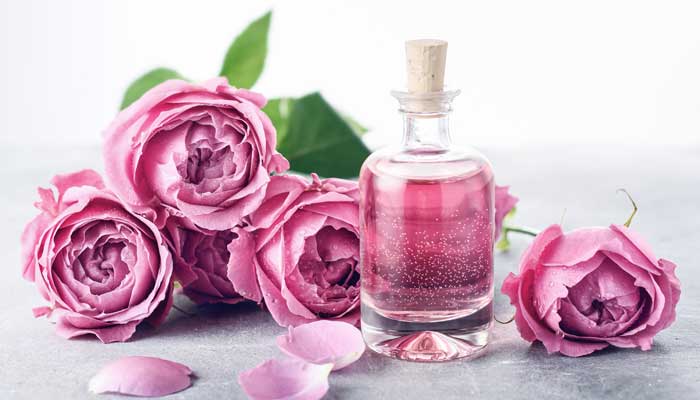 Your beauty regime may be missing its magic potion. Read on to know how you can use rose water.
Rose water, made with infusing rose petals to water, has innumerable skin and hair benefits. Having hydrating and nourishing properties, rose water is suitable for all skin types including sensitive skin. But confused how you can add it to your daily beauty care?
Below we give you five ways you can use rose water for glowing skin and shinning hair.
Skin Toner
The ideal skincare regime includes cleansing, toning and moisturizing. Thus, instead of using a store-bought chemical-infused toner, switch to the natural rose water. The astringent properties help in maintaining the skin pH balance and removes oil and dirt from the pores. Dip a cotton ball into rose water to keep pimples, whiteheads and blackheads at bay.
Makeup Remover
If you are looking for alternatives to makeup removers that have alcohol and harsh chemicals and leaves your skin raw, then rose water is your next best friend. The hydrating property gently removes your makeup without causing harm to your skin. You can also add 1tsp coconut oil to 2tsp rose water to create a natural makeup remover that leaves your skin moisturized and soft.
After-shave
Shaving your hands and legs can cause burns and rashes leaving your skin irritated. But spritzing rose water on the newly shaved parts of your body can reduce inflammation, soothe the irritation, and calm your skin, bidding permanent goodbye to the ill effect of shaving on your skin.
Hair Rinse
Using hair rinse post-shampooing can have many benefits including stimulating hair growth, reducing oil production, and preventing dandruff, among others. Ending your hair wash with a cup of rose water gives an extra boost of shine and hydration to your hair, leaving it glossy.
Under-eye puffiness
Lack of sleep, stress and fatigue can cause an accumulation of fluids under the eye, resulting in puffiness or swelling. Thus, using cotton pads dipped in cold rose water (place it in the fridge for a while before use) can soothe the under-eye bags making you look fresh and rejuvenated. You can also put drops of rose water in your eye to reduce the redness.
You can buy store made rose water or for a more natural alternative, make it at home. If you experience rashes or other skin problems due to its usage, stop applying it and seek medical attention immediately.