The Art of Bullet Journaling: Creative Layout Ideas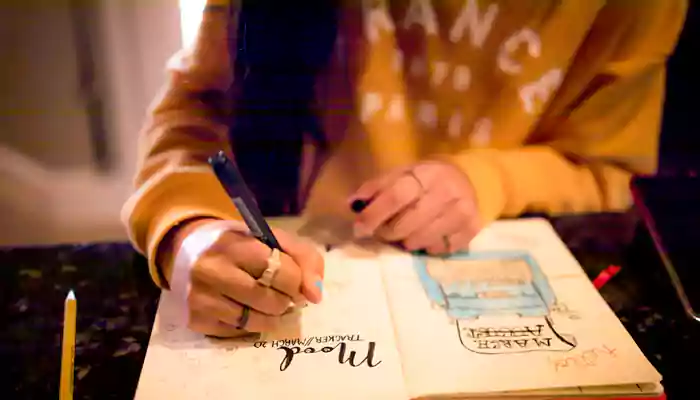 In this article, we'll explore creative bullet journal layout ideas that can transform your journal into a functional work of art.
Bullet journaling is more than just a productivity tool; it's an art form that allows you to combine organization and creativity in a single notebook. The beauty of bullet journaling is that it's entirely customizable, giving you the freedom to design layouts that suit your personal style and needs.
Monthly spread masterpiece
Start your bullet journal with an eye-catching monthly spread. Use vibrant colours, calligraphy, and a calendar layout to make it both functional and visually appealing. Add an inspirational quote or a mini habit tracker for that personal touch.
Habit tracker bliss
Create a habit tracker layout that resembles a mood board. Use watercolor splashes, stickers, or doodles to represent each habit. As you fill in each day, your journal becomes a colourful reflection of your progress.
Travel diary
Turn your journal into a travel companion by creating dedicated pages for every destination you visit. Include maps, tickets, and your personal travel notes. This layout will serve as a visual diary of your adventures.
Reading log retreat
For bookworms, a reading log is a must. Design a cozy reading nook in your journal where you can record the books you've read. Add mini book covers, ratings, and quotes to make it a book lover's paradise.
Mindful mood mandala
Transform your mood tracker into a beautiful mandala. Each day, fill in a segment with a colour that represents your mood. Over time, you'll have a stunning visual representation of your emotional journey.
Recipe journal delight
Create a dedicated section for your favourite recipes. Illustrate each recipe with hand-drawn ingredients and cooking instructions. It's not only practical but also a beautiful keepsake.
Growth garden
Track your personal or professional growth with a garden-themed layout. Each goal or achievement is represented by a different flower or plant. As you progress, your garden flourishes.
Gratitude collage
Practice gratitude with a gratitude collage. Each day, add a small sketch or a sticker that represents something you're thankful for. Over time, you'll have a beautiful mosaic of positivity.
Budgeting oasis
Managing finances can be more enjoyable with a budgeting oasis layout. Illustrate income and expenses with icons and charts. Add savings goals and expense trackers for a visually pleasing financial journey.
Weekly doodles
Inject creativity into your weekly layouts with doodles. Create a themed doodle for each week, whether it's floral, celestial, or geometric. It's a fun way to add a touch of art to your journal.
Fitness funhouse
If you're into fitness, transform your bullet journal into a fitness funhouse. Dedicate sections to workout routines, meal planning, and progress tracking. Use motivating illustrations to keep you on track.
Brain dump carnival
Unleash your creative thoughts in a brain dump carnival layout. This is where you can let your ideas flow freely. Decorate it with thought bubbles, arrows, and doodles that represent your brilliant ideas.
Bucket list bonanza
Create a bucket list layout filled with illustrations of all the places you want to visit, activities to try, and goals to achieve. Each time you cross something off, add a celebratory sticker or a mini drawing.
Dream journal wonderland
Dedicate a section of your journal to your dreams and aspirations. Create a whimsical dreamland with illustrations of your goals and visions. Whenever you achieve a dream, colour it in or add a star sticker.
So, pick up your journal and let your imagination run wild as you create a journal that is both functional and visually captivating. The art of bullet journaling is limited only by your creativity and the possibilities are endless.