The Top 7 Places To Visit In Japan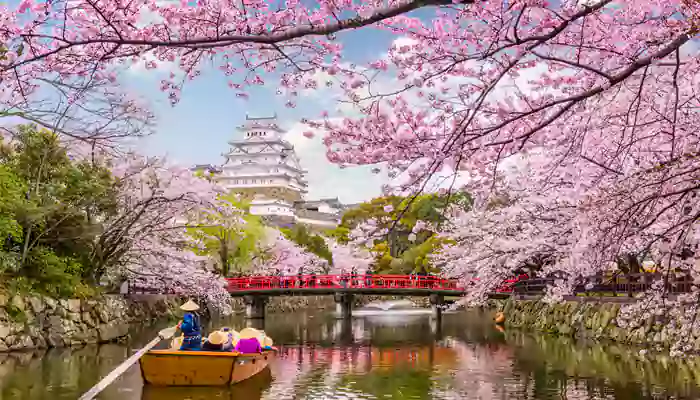 Here is our list of favorite spots in Japan, ranging from exciting metropolises to quiet woodland hikes. Read on to know them all!
Japan is a traveler's paradise, serving up everything from the quiet onsen (hot spring) towns in the highlands to lively mega cities and everything in between. One might spend a lifetime seeing Japan's many wonders, but there are some cities and attractions that are essential to any worthwhile trip. What follows is a list of the top 10 attractions in Japan, as chosen by our team.
Tokyo
When it comes to building on the ground that is both highly inhabited and prone to earthquakes, Tokyo continually pushes the envelope. It's the mecca of all things modern in Japan, including architecture, art, music, fashion, food, drink, & entertainment. Travelers are drawn to the city itself more than any one attraction. It's vast and living, seemingly endless. As Tokyo is always developing and home to such a wide variety of districts, no two visits will ever be the same.
Kyoto
Kyoto was the imperial capital of Japan for almost a thousand years, and it's over a thousand temples attest to this fact. Kinkaku-ji, a magnificent pavilion covered in gold leaf, and Ryan-ji, a Zen rock garden, are two examples of this kind of temple.
Naoshima
One of Japan's greatest success stories is the transformation of the agricultural island of Naoshima into a world-class center for contemporary art. The island's naturally beautiful preexisting villages have been complemented by the addition of museums, a boutique hotel, and even a bathhouse, all created by some of Japan's most renowned architects.
Mt. Fuji
Mt. Fuji can wow even from afar. The amazing symmetry of the cone of Japan's tallest mountain is best appreciated up close. Sunrise at the peak? Just magical. Fuji-san is one of Japan's most famous landmarks and has stood the test of time. Thousands upon thousands of pilgrims make the ascent each year, carrying on a centuries-old custom.
Hiroshima
Hiroshima has evolved into a progressive city with beautiful, tree-lined boulevards. Before visiting the Peace Memorial Museum, few people have any idea of the magnitude of human suffering caused by the atomic bomb. Seeing this place in person is a lesson in tragic but crucial history.
Yakushima
Yakushima is a tiny island in southern Kyushu that has a reputation for being mystical and unearthly. When words stop working, cliches take over. A yakusugi, a kind of old cedar exclusive to the island of Japan, has gigantic roots that seem like alien tentacles and may be found in some of the country's last remaining woods.
Koya-san
Taking the funicular to the top of Kya-san, where a revered Buddhist monastery is located, is akin to traveling to another planet. Oku-no-in is the most famous of the area's more than a hundred temples, and it is known for its winding walks among ancient cryptomeria trees and moss- and lichen-covered stone stupas. Some temples provide a more immersive experience, allowing visitors to stay overnight, eat vegetarian Buddhist food, and meditate with resident monks.