The world has more digital nomads than ever before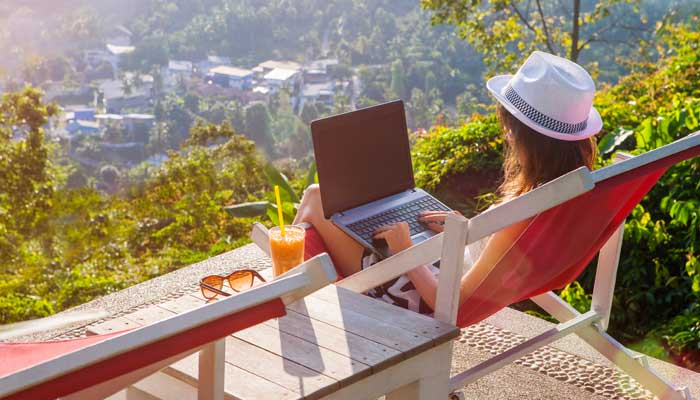 Work from home or work from an exotic locale? The choice is yours!
Why is it that more and more people are slowly turning to a lifestyle that is more nomadic than systematic? Or are we looking for some method in the madness? The human brain is such that is easily given to habit. In fact, we are so taken up by habit that sometimes we are scared to move out of that mould. Yet, the word nomad sounds extremely intoxicating!
For some people, the digital revolution has been more of a boon than a bane. It has made one's work-life more flexible. Since some of the top companies across the globe are have allowed their employees to work from home for the next couple of years, most employees are using this as an opportunity to explore options that would entail the work-from-home scenario to look a little better than its usual drab self.
Select a destination
The first thing to do is look up institutions or homestays on the internet that offer staycations at various exotic locations with 24-hour unlimited bandwidth facilities. Bandwidth is the most important factor here. It will not only help you stay connected to your colleagues but will also serve entertainment purpose if extreme weather conditions prevent you from going out.
Ensure passive income
Another basic need is to have a reliable source of passive income. Unless you can pay for your own travel, why travel at all? It is the most important financial tool that will afford you the freedom to not only receive income automatically, every single month, without fail, but it will also give you the means to have a flexible schedule to spend time with your family and children or wander the world as a digital nomad, choosing to work when you please, on your own schedule.
Develop a few skills
You also need to develop a few skills. The ideal skills would involve anything that can be done from a laptop, remotely. Keep in mind that you will likely be working from a vastly different time zone than you are used to. You need to be flexible enough to work when you have the time and do not constrain yourself to some 9-to-5 hours.
Keep Plan B ready
You need to figure out how you will support yourself and what will happen if you can't make ends meet. What is your Plan B? What about Plan C? Things don't always work out the way that we want them to, but as long as we put the proper plan in place, we might just achieve what we focus on.
There are so many concerns, such as healthcare and insurance that we often fail to think about all the smallest details that can interrupt our trips. How will we communicate if we have to go to a hospital in a foreign land? How will we navigate the local laws and regulations to do just about anything in our intended destinations? Stay ready for such emergencies.
Join a digital nomad community
There are innumerable community groups online who believe in the philosophy of being a digital nomad. And they have been at it long before you zeroed on to it. So use their experience to make your plans full proof. When at a particular location, keep exchanges alive with the community so that you can stay updated about the prospects of your surroundings.