Things to do in Yamthung Valley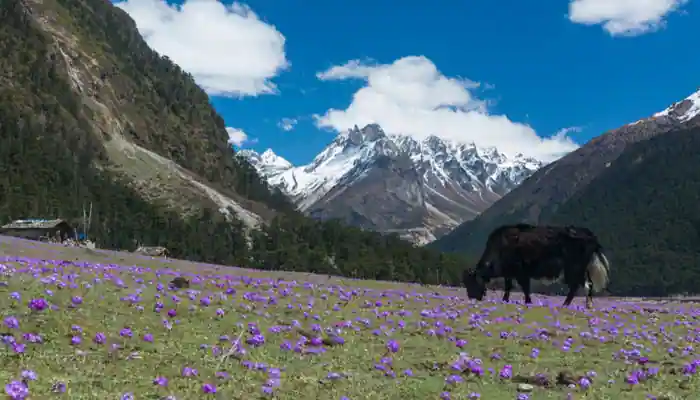 This serene valley lapped with Himalayas is lowkey a treat to visit.
Surrounded by towering mountains and lush forests, this hidden gem is a haven for travelers seeking a glimpse of traditional Tibetan life and the wonders of nature. Nestled in the heart of the Himalayas, Yamthung Valley is a land of unparalleled beauty, where every step you take is a step closer to discovering the magic of this ethereal destination. With a bounty of natural treasures and cultural marvels, the valley beckons travelers from far and wide, promising an adventure of a lifetime.
A couple of hours from Gangtok, Sikkim, the long road to Yamthung Valley is worth the hype. There are multitudes of attraction to this peaceful valley.
Marvel in the valleys of rhododendrons
Yamthung Valley of flowers is equally mesmerizing and serene during bloom season.  The remote location is home to the Shingba Rhododendron Sanctuary, boasting over 24 species of the state flower that paint the valley with a kaleidoscope of colors from late February to mid-June.
Trekking and Hiking
Embark on a journey of self-discovery through trekking and hiking. The valley boasts a network of trails that traverse through emerald forests, glistening streams, and steep mountain passes, offering breathtaking vistas at every turn. A trek to the Goecha La Pass, with its panoramic views of the Kanchenjunga range, is sure to leave you spellbound.
Explore Ancient Monasteries
Sikkim is a site of monasteries. The architectural marvels, adorned with intricate carvings and colorful prayer flags is the spiritual part of Northern Sikkim. The Tashiding Monastery, perched atop a hill overlooking the valley, is a sight to behold, with its grand prayer hall and ornate frescoes.
Wildlife Watching
The valley is home to a plethora of exotic Himalayan wildlife, including the elusive snow leopard, the agile musk deer, and the majestic Himalayan black bear. A wildlife safari through the valley is an experience that is sure to leave a lasting impression.
Taste Traditional Tibetan Cuisine
Enjoy the kosher Tibetan cuisine, sitting cosy in the laps of the mountain, from local shops. From steaming bowls of thukpa and lip-smacking momos to the salty and buttery flavors of the famous Tibetan butter tea, the valley's memorable and authentic cuisine is a sure shot way to keep you warm and full.
Attend Festivals
The festivals of Yamthung Valley are a celebration of the region's rich cultural heritage, a time when locals come together to revel in the spirit of community and to honor their deities. The Pang Lhabsol Festival, with its colorful mask dances and traditional music, is a spectacle that is not to be missed.
Photography
Make sure to capture Himalayas through the lenses. The snow-capped peaks, cascading waterfalls, and vibrant prayer flags make for stunning visuals. So. Very. Reelworthy.