Top 5 places that are a must-visit in Kathmandu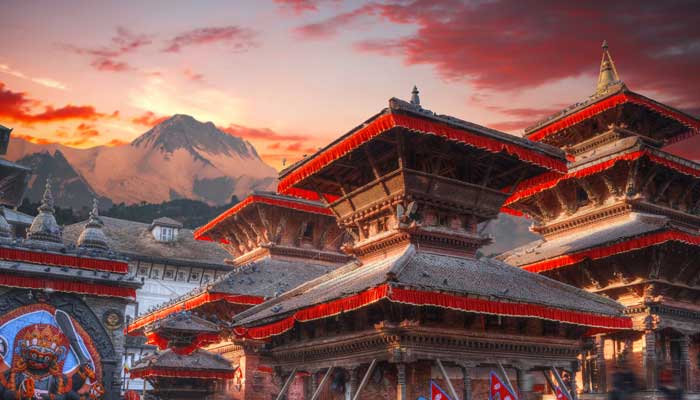 The capital of Nepal is a bustling, lively city that you will love. Scroll to know more about the places to visit.
Kathmandu Valley boasts of its distinctive culture and places, which includes everything between temples and monasteries to spice markets and food hubs. We give you a list of the top five places that you must visit on your trip to Kathmandu.
Kathmandu is blessed with many temples spread across the entire city. However, the two most famous temples that you should visit are Pashupatinath and Swayambhunath.
Pashupatinath temple, located on the banks of Bagmati River, is the most sacred Hindu place. On the other hand, Swayambhunath, also known at Monkey Temple, is listed as a UNESCO World Heritage Site. You can get a 360-degree view of the entire Kathmandu Valley from this temple.
Thamel is the top tourist hub in Kathmandu where the crowds are huge, but the entertainment is more. It is a vast area filled with multi-cuisine restaurants, souvenir shops, hiking stores, coffee shops, bookstores and much more. Additionally, there are many street vendors selling flutes and other local-made objects.  Don't be surprised if you spot many tourists in the area, as it is the main hangout space for mountaineering enthusiasts.
Kathmandu has three distinct durbar squares, which means royal squares, namely, Bhaktapur, Patan and Hanuman Dhoka. All three durbar squares are filled with different small and big temples. You should visit each of them to admire the different architectural structures of the temples, the stupas and sadhus.
A famous structure located in Hanuman Dhoka is the house of Kumari, the living goddess of Nepal.
The royal family of Nepal occupied the Narayanhiti Palace until 2008, after which it was converted to a museum opened to the public. The palace is also the location where the massacre of the king, queen and other royal family members took place in 2001. Despite the history, the building is architecturally beautiful, as the design resembles traditional Nepali pagoda.
The holiest site for Tibetan Buddhists outside of Tibet, Boudhanath Stupa is one the largest stupas in Asia. If you want to learn more about Buddhism and Tibetan culture, then this is the place to go, as the entire area is the heart of Tibetan life in Nepal's capital. Many monasteries surround the gigantic white dome stupa, which attracts many pilgrims and tourists from all over the world.
There you have it! A concise and must-do list for your visit to Kathmandu.