Top 7 Most Expensive Celebrity Homes In India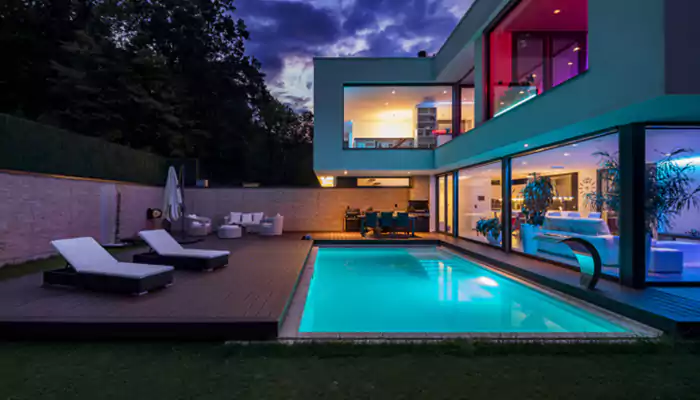 Here are some houses owned by celebrities that have been known by their names. Read on to know them all.
Here is a list of some of the most expensive homes in India, from Mukesh Ambani's Antilia to Amitabh Bachchan's Jalsa to Shah Rukh Khan's Mannat to Ratan Tata's Retirement Home. Read on to know them all!
Antilia
Antilia, owned by Mukesh Ambani of Reliance Industries, is not only the most expensive home in India but also the most expensive home in the world. Antilia is a 568-foot, 27-story skyscraper on one of Mumbai's priciest streets: Altamount Road. There are nine fast elevators, three helipads, a shop selling ice cream, a movie theater with 80 seats, a salon, a gym, and other amenities in this building by renowned Chicago architects Will & Perkins. Mukesh Ambani and his family may store their fleet of luxury automobiles in the home's multi-level garage.
JK House
On the same street as Antilia is JK House, the second-tallest private structure in India and the property of Raymond Group chairman Gautam Singhania. JK Palace is a 30-story complex with ultra-modern apartments, a pair of pools, and five levels of allocated parking for the world's most expensive automobiles. Its estimated value is roughly Rs. 6,000 crores.
Mannat
The Khan family mansion, known simply as "Mannat," is a legend in Bollywood. The stylish cottage which Shah Rukh Khan calls home, is located on Bandstand in the Mumbai neighborhood of Bandra, with a view of the Arabian Sea. The luxurious home has many bedrooms, a library, a gym, a private theater, and many other amenities, and is valued at roughly Rs. 200 crores.
Abode
Abode is Anil Ambani's residence, which spans a massive 16,000 sq. ft., has a height of 70 meters, and features a helipad. Abode is a 17-story skyscraper on Pali Hill in Mumbai; it once housed Mukesh Ambani & his family until they relocated to Antilia. The big home's entryway is especially well-designed, with glass windows that let in plenty of natural light to illuminate the all-white living quarters. The luxury home has a full fitness center, spa, and pool, along with all the other amenities expected of a seven-star establishment.
Jalsa
Amitabh Bachchan, the "Big B" of Bollywood, owns the stunning mansion "Jalsa" (meaning celebration) in the Mumbai neighborhood of Juhu. The astrologer suggested changing the name of the home from "Mansa" (meaning "emperor") to "Jalsa." After Amitabh Bachchan finished filming the popular movie "Satte Pe Satta" with director Ramesh Sippy, Sippy presented him with a gift of a magnificent double-story home covering an area of 10,123 square feet.
Jatia House
KM Birla, Chairman of the diversified Aditya Birla Group, owns Jatia House in Mumbai's Malabar Hill. The sea-facing home has 20 bedrooms, a courtyard, a small pond, and beautiful green grounds, and can accommodate as many as 500 to 700 guests. Jatia House is a sprawling 30,000 square feet and is estimated to be worth over Rs. 425 crores. The bungalow appears identical to those seen in Bollywood films.
The Retirement Home of Ratan Tata
The retirement home of businessman Ratan Tata is located in Colaba, Mumbai, and features a breathtaking view of the Arabian Sea. The 7-story home has a vast parking area and can accommodate up to 50 guests thanks to its movie room, in-house gym, and beautiful sun terrace. The estimated value of Ratan Tata's all-white mansion is Rs. 150 crores.