Top 9 Comic Book Artists of All Times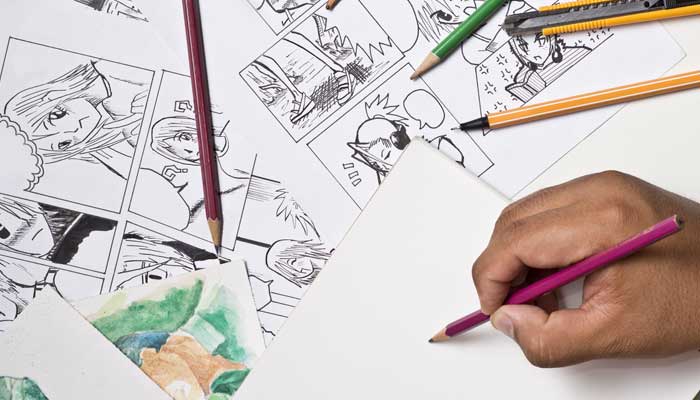 Be it storyboard or action-packed animated movies, here are 9 comic artists who have shaped the industry and inspired artists worldwide.
Every masterpiece starts by sketching your visualizations on paper, and when it comes to comics, they create panels of magic that interests onlookers big and small. Be it creating characters or learning anatomy to produce action-filled perspectives; illustrators are the strong pillars that make big studios endure. Here are 10 comic artists that inspire budding talents to explore themselves and try their way into the domain.
Nelson Alexander Ross-
Born on 22nd January 1970, Alex Ross is an American comic book writer and artist who stands out with painting interiors, covers, and design. This first debut was in 1994 where he collaborated with writer Kurt Busiek to work for Marvel Comics.
Jack Kirby-
Officially known as Jacob Kurtzberg, Kirby was born on 28th August 1917 in New York, USA. He created masterpieces of characters including Captain America, The Incredible Hulk and the Fantastic Four.
Jim Lee-
No one astounds readers and comic lovers more with impressive high budget action-filled works. The Co-publisher at DC Comics, and his books like Batman: Hush, X-Men 2, Uncanny X-Men will forever stay to live with us.
Jamie Christopher Hewlett-
Born on 3rd April 1968, the English comic creator, illustrator, designer, director and animator in one of the unsurpassed comic book artist ever.
Bill Sinkiewicz-
The epitome of skill, you just need to see his art style to determine its Bill Sinkiewicz. The intense style with exaggerated emotion is what makes his works stand out in the crowd.
Akira Koriyama-
Everything you would expect from the creator of the Dragon Ball series, the Manga artist is the best at action sequence and character designing.
Steve Dillon-
With notable works like Supreme Power, Preacher, Marvel Knights, Steve Dillion, through his art, has brought a blend of dark humour with a controversial art theme. The result is so outstanding that it is impossible to replicate.
Mike Allred-
Allred's pop style is hard to copy and slick with distinct inking. The playful art style of the comics is extensively commercial and merchandise friendly. The iZombie, X-Force and Atomics were perfect fits for Allred's asset.
Greg Capullo-
With unique works like X-Force, Batman, Haunt, and Dark Knights Metal, Greg Capullo created some of the most influential books for DC. Reinventing the Joker to something terrific is what marks him unique from the others.