Types of men's bag and ways to style them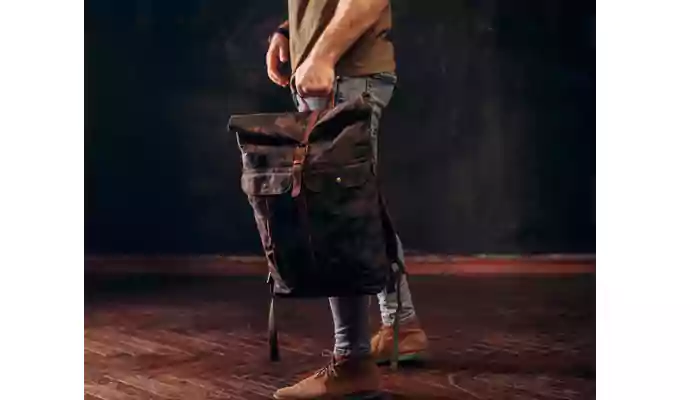 Say goodbye to the past when men had to carry heavy wallets and cluttered pockets. 
Nowadays, men's bags have become a crucial aspect of contem­porary fashion by combining functi­onality and style. We are here to help you with your style. Come check these different types of men's bags and share creative tips on how to incor­porate them into your wardrobe, adding a touch of versa­tility to your personal style.
The Classic Messenger Bag
The messenger bag is a classic and versatile accessory that can be effortlessly incorp­orated into both profes­sional and casual outfits. With its single shoulder strap and flap closure, this timeless favourite exudes functi­onality and style. For a smart-casual look, pair the messenger bag with a comfo­rtable pair of jeans and a stylish butto­n-down shirt. If you're heading to the office, wear it across your suit for a sophisticated contemporary business ensemble.
The Trusty Backpack
Backpacks have evolved beyond being funct­ional acces­sories for school or hiking trips. They have now become a trendy staple in men's fashion. A stylish leather or canvas backpack can effort­lessly compl­ement both casual and semi-formal outfits. Pair it with a t-shirt, jeans, and sneakers to achieve a relaxed urban vibe.
The Dapper Duffle Bag
For a stylish travel look on weekend getaways or short trips, consider using a leather or canvas duffle bag. Pair it with well-fitted chinos, a crisp white shirt, and loafers for a trendy look.
The Cool Crossbody Bag
The popul­arity of crossbody bags has soared due to their conve­nient functi­onality and contem­porary aesth­etic. For a laid-back yet fashi­onable appea­rance, drape the bag diago­nally across your body. Pair it with slim-fit jeans, a trendy graphic tee, and a pair of sneakers to achieve a chic stree­twear look.
The Compact Sling Bag
Sling bags are a conve­nient and funct­ional choice for indiv­iduals who prefer carrying only the essen­tials. They can easily be styled with casual outfits such as shorts, a comfo­rtable shirt, and sneakers, creating a hassle-free and fashi­onable look for any day out.
The Sporty Gym Bag
Gym bags have evolved beyond their tradi­tional use for just the gym. Nowadays, you
can choose a sleek and minim­alist gym bag that perfectly compl­ements your athle­isure style. Pair it with joggers, a hoodie, and some athletic sneakers to create a sporty and comfo­rtable outfit.
Bags for men have trans­formed from practical acces­sories to must-have fashion items that elevate your style. Whether you're going to work, embarking on a weekend trip, or doing everyday tasks, there's a bag for every occasion. Try out diverse bag styles to see how they can enhance your wardrobe and overall appea­rance. Feel free to mix and match, and remember that confi­dence is the secret ingre­dient to effort­lessly rocking any bag. So go ahead, choose a men's bag that perfectly suits your style and make a state­ment!