Wanderlust Alert: 5 Unique and Unusual Hotels around the World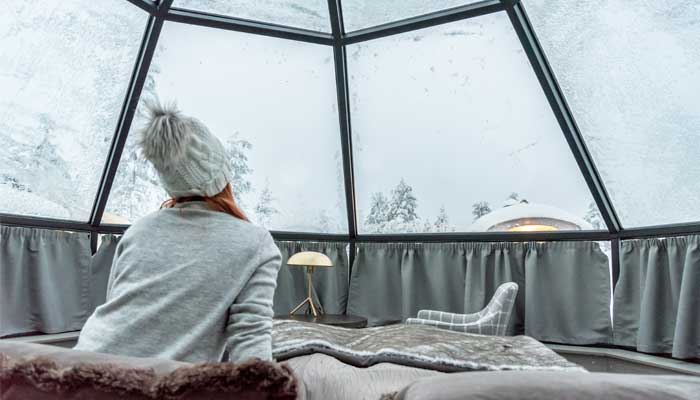 Spice up your travel plans with some distinctively unusual stays around the world. 
There are times when your travel gets monotonous with similar-looking hotels and homestays until the whole experience begins to look insipid. It is time to turn your vacations more exciting with unusual places to stay instead of the standard overnight arrangement of a regular hotel. From living in a glass igloo with northern lights view to underwater rooms by the beach, these destinations will redefine your whole idea of an ideal staycation.
Hotel Kakslauttanen, Finland  
Situated right in the middle of a chilly forest, you would be promised a surreal view at this unique hotel. You could book an entire igloo for yourself with a clear night view through its transparent glass ceiling. Just snuggle up in your warm bed inside the cosy glass igloo and witness the wondrous phenomena of aurora borealis right in front of your eyes while you slowly drift into slumber.
Giraffe Manor, Nairobi, Kenya 
The resort is a treat for all the wildlife enthusiasts as it offers a stay with giraffes on the property who would peep into your patio or dining area while you are enjoying your breakfast. The animals are friendly and wouldn't mind a bite or two from your meal if you offer to share it with them.
TreeHotel, Sweden
Turn your ultimate childhood dream into reality by booking a room at a hotel that has been entirely built on trees. The rooms hang 13 -20 feet above the ground and could be reached through bridges, ramps and electric stairs. The rooms could look like a futuristic UFO pod, mirror cube or a camouflage bird nest depending upon your choice.
Salt Hotel: Hotel Palacio de Sal, Bolivia
The entire place is built with salt, including its furniture, walls, figurines, ceiling, and floors. This property also offers a spa, fine dining, and an in-house tour operator. If you are up for something truly unusual, this place could be on your bucket list.
Manta Resort, Pemba Island, Tanzania
The place is one of the few floating hotels in the world. It has villas by the beach on a remote island in the Indian Ocean. You could experience a chance to stay in an underwater suite while you could see marine life floating past the large glass windows of your room. If you are want to play adventurous, you could turn the special spotlights on under the windows to attract fishes and octopus around your room. There are also rooftop enclosures above on the surface of the sea which are ideal for sunbathing or star gazing. Other activities include scuba-diving, spa treatment or a trip to the island, making it an ultimate underwater hotel.