Five Interesting Twists You Can Add To Classic Hummus Dip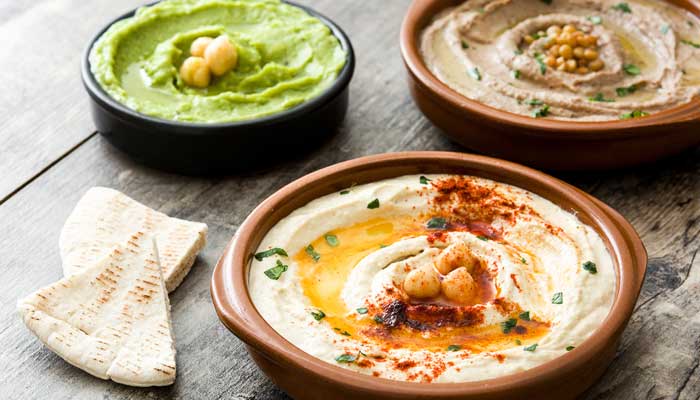 Craving for some hummus? Here is how you can add some interesting flavours to the classic middle -eastern dip.
It is no news that Hummus, the Middle eastern savoury dip that become extremely popular across the world. However, there is more to it than its silky texture and delicious taste which is why nutritionists recommend it without qualms. Hummus made primarily from boiled chickpeas has multiple health benefits like it balances cholesterol level in the blood, reduces allergic reaction, helps in weight management and is great for skin and hair. The biggest USP of hummus is it can be made in few minutes and by someone who knows nothing about cooking. The Easy-to-make dip can be paired with pita bread, chips, nachos, or as a healthy sandwich spread replacing mayonnaise. You can also add different flavours to the recipe and customise according to your preferences.
Rajma Hummus
If you are a fan of those cylindrical red beans, have it with your bread too. Add, boiled rajma to the chana and mash them together. To add a desi twist, sprinkle some garam masala, coriander powder with cumin powder. The spread can be used over tacos or frankies and tastes wonders.
Beetroot Hummus
Want to add a dash of colours to the dull-looking hummus? Beetroot is your way out. Often discarded by kids in salads or curries, beetroot can be roasted and added to the boiled chickpeas before mashing them. The red colour will make your spread and dip more inviting.
Pesto Hummus
Want to get your creative juices flow? Make a fusion dip rendering an Italian touch to a middle eastern dish. Pesto hummus is as easy as it sounds strange. Just throw in some basil leaves, walnuts with the regular ingredients of hummus and blend everything well. In case you don't find basil, you can create a green hummus replacing the herb with fresh coriander leaves.
Muhamarra Hummus
Muhammara is another dip from the same land that is all sorts of savoury, slightly smoky and sweet. To make muhamarra hummus, add roasted red bell peppers, paprika powder, parsley leaves, walnuts with the primary ingredients of hummus. Give everything a nice blend, and the muhammara or roasted bell pepper hummus is ready to be served.
Tangy Hummus
If you want hummus with a punch, add in the tanginess of sundried tomatoes. Roast or sun dry cherry tomatoes and add to the blender jar with the other ingredients of humus. The new exciting flavour of tangy hummus will be a welcome change.
You can even make all the 5 kinds of hummus with minimum prep but still impress them with the sheer variety.