Food Vlogging: Cooking up a storm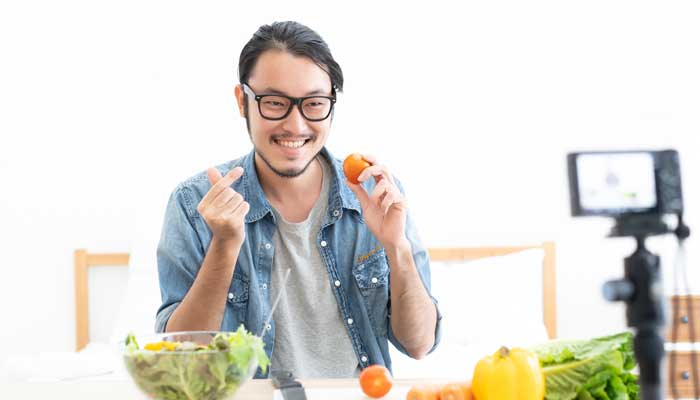 Food vlogs are the best ways to beat stress at home.
Not just a man, anyone's way to their hearts runs right through their stomach. Or so say the food vloggers of the world!
All hell broke loose for chartered accountant Neha Jain when the lockdown was announced in March. What with juggling work, parenting a three-year-old daughter, maintaining a house and simultaneously managing a husband who is more fussy about food than anything else! "I was so stressed out that I didn't know what to do! Then one day I decided I'm going to start a food vlog. It is a sheer passion project and I am not looking to make any monetary gains from it," said Jain (36) who lives in Mumbai.
Passion project
In fact, with time, she got so attached to the vlog that it turned out to be her only way to release stress and revel in personal space. "My husband is a big foodie, he will never eat the normal dal-chawal-sabzi you make at home. With no maids I had to think up a new recipe every day. Slowly I started making videos of what I was cooking and began to upload them on my channel called Koko & Mom, named after my daughter. The feedback has been very encouraging, because I don't use any exotic ingredients but whatever is available at home. My recipes are child-friendly as well," she pointed out.
Food connoisseur
Things were different for Math teacher Rumpa Dutta living in Kolkata with her family. Food was always a passion, and she loved going out to eat. But when the world came to standstill, she began to miss restaurant food badly. "We used to eat out almost twice a week. When going out became impossible and work pressure was mounting at home, I started my vlog fooduniya.com. It helped me de-stress to a great extent. I had eaten at several restaurants and have reviewed them on social media. I have also uploaded recipes made with exotic ingredients that can all be put together at home. It is more like cooking for the community. Today I have a sizeable amount of followers and subscribers to my channel. I also have offers to collaborate with some of the big brands in the FMCG sector," said Datta.
Homely touch
The reason why people are hooked to food vlogs these days is that there is a universal craving for good food. Another reason could be discovering innovative ways to cook restaurant-style food at home, with homely ingredients.
Tech smart
However, using the right technology and tools to shoot the videos also goes a long way in attracting the attention of viewers and enabling them to spend more time on your page. A good camera and upgraded editing software are a must. Most vloggers will tell you that mobile phones are the best ways to shoot cooking videos. But the idea is to stay ahead and be different!