From Dal Baati Churma to Ker Sangri, a food lover's guide to Rajasthan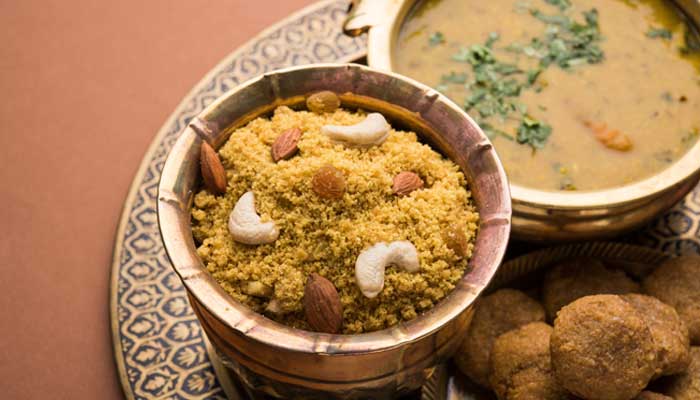 You just can't leave Rajasthan if you haven't tried any one of the mentioned famous dishes.
Rajasthan is a land of royal culture, famous for its heritage, forts, palaces and monuments. Interestingly, the food of the state is as colourful as its exoticness, having an influence on folk and its people. The home to the Great Indian Desert is certainly a destination for anyone who aims to go on a gastronomical journey of selected flavours and recipes passed over by the royalty. And voila, if you do so, you will feel the taste of food which is out of this world.
So let's take a look at some food dishes which are not only famous but are still preserving the authenticity and divinity of Rajasthan. And, you can't leave Rajasthan if you haven't tried any one of these:
Dal Baati Churma
Dal Baati Churma is the signature dish of Rajasthan, and it comprises three parts - Dal, the lentil preparation. Baati, which is the unleavened bread served in the shape of little balls, and Churma, which is a mixture prepared in pure ghee with jaggery. The dish is served at almost every food joint and restaurant in the state and try and have this with a traditional Rajasthani family to relish it in the right way.
Ker Sangri
Another popular dish of Rajasthan is Ker Sangri. This dish too is divided into two parts - Ker, which is a sort of peppery wild berry, and Sangri, a type of long bean commonly grown in Jaisalmer and Barmer. Just like Dal Baati Churma, this one too is cooked with very less water and is served with chapatis (Indian bread) made of Bajra (pearl millets).
Ghevar Rabri
Last but not the least, finish your trip to Rajasthan with the king of all sweets - the Ghevar full of Rabri. It is made by soaking flour in milk and ghee and then is topped with almond slices.
So while you visit the cold Thar desert or the forts in Jaipur, don't forget to hog on the food, which is the highlight of Rajasthan and its colourful persona.