The rise and rise of paani puri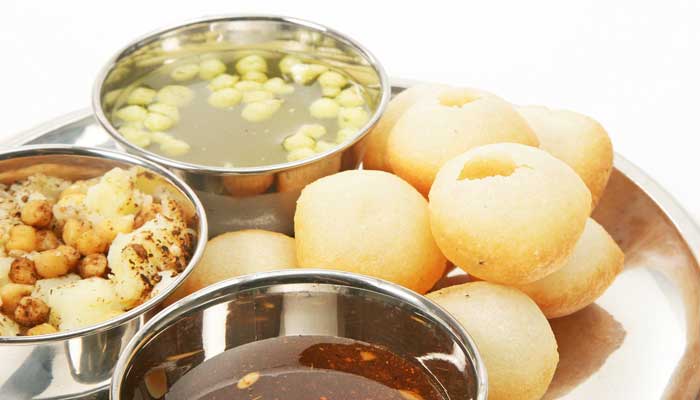 A cosmopolitan food quest to trace the origins of the humble golgappa.
The first time I heard about tequila shots in a golgappa instead of imli water, I almost freaked out! Yes, you can judge me all you want but back then I was quite a conformist when it came to the good old puchka. However, with time I have learnt to embrace fusion food, even if it is for the sake of reminding myself that the original taste can never be replicated!
Ancient history
However, the golgappa seems to have two different kinds of origin in Indian culture. If you go back to our epics, you will see that the earliest references can be found in The Mahabharata. When Draupadi first arrived as a newly-wedded bride into the Pandava household Kunti, her mother-in-law decided to test her temperament. Remember the Pandavas were living in exile in the forest around that time.  So Kunti gave Draupadi some leftover vegetables and just enough wheat dough to make any dish that would feed her hungry sons. It is believed that this is when Draupadi decided to make tiny golgappas and filled them with mashed vegetables. On an impulse she mixed tamarind into the drinking water with black salt and lime, if only to add humour!
Magadh folklore
The second version is centred around phulki, which is believed to be the precursor to golgappa. It is said to have first originated in Magadh. However, back then the ingredients used were very different. Two important ingredients of golgappa are potato and chili and both came to India 400 years ago. Food historians have said that the golgappa originated in Uttar Pradesh and Bihar about 125 years ago. Others claim, it is an abbreviation of the raj-kachori, only smaller size! Phulkis were as much a part of Magadh cuisine as several traditional specialities of the region, like chitba, pitthow, tilba and chewda of Katarni rice, which were evolving around the same time.
What's in a name
Whatever the origin, paani puri is perhaps the most sought after street food in India. The word golgappa can be broken down into two to get an essence of the dish: gol refers to the crispy shell, and gappa refers to the eating process, since it is expected to be eaten one at a time. The name varies depending on different regions in India. In Haryana it is known as paani patashi; in Madhya Pradesh phulki; in Uttar Pradesh paani ke batashe or padake; in Assam phuska orpuska; gup-chup in parts of Odisha and phuchka in Bihar, Nepal, Jharkhand, Bengal and Chhattisgarh.
Recent innovations
Maverick Indian chefs have created different variationsto suit the cosmopolitan food quests! While some have loaded the humble paanipuri with jalapenos, olives, paprika, pizza sauce and molten cheese and baked it into a pizza, others have filled it with wax gourd mousse and served with spicy honey lemon water.
Yet, others have used smoked eggplantsas a filling and served with spiced nolengur water. However, my favourite has turned out to be the ones with keema filling laced with the regular tamarind water, especially curated to please the conformists' palate!